By Ryan Hines
rhines@dailystandard.com
After a punishing two weeks against a pair of Western Buckeye League title contenders, the Celina football team may have a chance to catch its breath this week.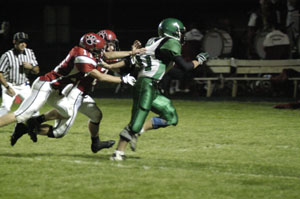 Celina (1-4, 1-3 WBL), which was outscored 90-14 the past two weeks against Shawnee and Kenton, hits the road on Friday night to visit a struggling Elida (0-5, 0-4 WBL) team that's winless on the season and has struggled to be competitive in any of the losses.
Elida has lost its first five contests by a combined score of 200-30 against the likes of Lima Central Catholic, Shawnee, Kenton, Ottawa-Glandorf and Bath which equals out to an average beat down of 40-6.
The weaknesses are plentiful for Elida as shown in the different ways the Bulldogs have been beaten. From giving up six passing touchdowns against Dailyn Campbell and Kenton to allowing 256 yards and four touchdowns to Bath's Todd Ruggley last week, it has been a struggle for Elida all year.
"This week is a game with two teams that have basically struggled all season long," said Celina head coach Jerry Harris. "Bottom line is the story of this week is the two teams are similar. We're anxious to play this week, as I'm sure Elida is. I'm sure they are just as anxious as we are. Both teams need a win, both teams are hoping for a win and both feel they have a good chance to win the game." "I think that both teams see an opportunity to get a win on Friday," admitted Elida head coach Chris Etzler. "We're hungry to get that first win and I'm sure Celina wants to win badly too. Our attitude is that if we can play well, we can win. We can be rewarded this week if we play well on Friday."
If Celina is going to come out the victor, then it will be with a new quarterback under center as Scott Felver replaces the injured Derek Gagle as the Bulldogs' signal caller. Gagle has a severely sprained ankle and according to Harris will miss this week for sure with the upcoming weeks still up in the air.
Felver was a starting running back for the Bulldogs in the first four games of the season and his spot in the lineup will be manned by Josh Hedge, who was productive a week ago with a team-high 68 yards on 11 carries against Kenton.
"The biggest thing that the Gagle injury does, is it takes one starting running back out of backfield to fill that position," stated Harris. "That's where it will have the biggest effect without him there. Won't change much on what we do on offense, it just goes deeper into running back depth.
"He (Felver) can throw the ball, but visibility is a drawback," added Harris about the 5-6 tall senior. "If he can see them he can get it to him."
Despite the 43-14 loss to Kenton, Harris and the rest of the Celina offensive coaching staff saw some improvement.
"I was mildly pleased with the improvement that we made on offense," admitted Harris. "We moved the football. Gaining over 300 yards left us with a little bit of good taste in our mouth. At least it was some progress. Line played a little better and backs ran a little better."
Progress is exactly what Elida is looking for and they made a slight bit of progress a week ago. Against Bath last week, Elida had season bests of scoring with 13 points and gave up the least amount of points from any game this season as the Bulldogs allowed 34 points.
As little of progression as that sounds, Etzler is scouring for positives at this stage.
"We have no excuses for why we're 0-5, we don't believe in excuses," said Etzler. "I do think that we have improved as a football team each week, even if it doesn't always show on the scoreboard. Starting a lot of sophomores right now and those younger kids are getting better and they're starting to realize it."
One area of strength that Etzler and Elida can bank on is the special teams ability of Brooks Mohr, who was a special mention all-state performer last season. Mohr is a deep option on field-goal attempts and is consistently punting the ball 40-45 yards per attempt.
"Kicking game is a strength for Elida, no doubt about that," said Harris. "They have a college prospect as a kicker and they'll easily win that third of the game, hands down. Kickoffs out of the end zone, punting the ball 40-45 yards. We have to win the other two phases of the game and I don't feel too good about it."
The other two phases of the game for Elida have been a struggle as the wing-T offense is lacking a big-play threat and the passing game has been erratic at best.
Tyler Bly is the top threat in the backfield for Elida while Skyler Crow will join him in the backfield as their one-two running punch while C.J. Warren will be starting his fourth game at the varsity level.
"They want to run the football, #32 (Bly) is their outstanding running back and he's also their best linebacker. He's a combination back with some power and strength. They throw it, but it's not their strength, but against us so far this year, teams have been making the passing game their strength."