By Ryan Hines
rhines@dailystandard.com
The Celina volleyball team is past the halfway point of the Western Buckeye League season and the Green and White have yet to lose a league contest.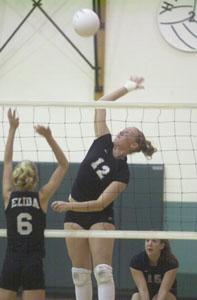 On Thursday night, Celina (10-4 overall) made it 5-0 in the WBL following a dominating performance over a hapless Elida squad as the home team rolled 25-12, 25-8 and 25-12.
Celina looked like a WBL contender against an outmanned Elida team building big leads in all three games before slamming the hopes of any upset bid.
"We played like we are capable of playing tonight and I think that it showed on the scoreboard," said Celina head coach De De Stoner.
Stoner credited the spark with which her team played to a recent change in the offense and defense. "We're trying a new offense and a new defense right now and it looked really good tonight," pointed out Stoner. "We're playing a 5-1 offense and a middle-up defense now. Betsy Hone will be our setter now all the time and Liz Homan and Lindsay Scheer will play all the way around now. I just thought it was time to make a change to better use the talent on this team. We weren't coming through when we needed to, so we made a change."
Hone ran the 5-1 offense to near perfection setting up Liz Homan, Kylie Dorsten, Cenzie Yoder and Lindsay Scheer for big swings and thundering kills all night long.
Yoder was the early beneficiary on the attack while freshman Julie Klosterman was serving up winners along the way in game one. Yoder had five kills and Klosterman had 10 points scored off her serve to spark Celina early.
Elida led 3-2 early on but Celina scored eight of the next nine points in the game leading to a timeout from the visitors with the Green and White on top, 10-4.
The lead ballooned to as many as nine points before Celina got a string of five straight service winners by Klosterman leading to the 13-point differential in game one.
Celina led wire-to-wire in game two and did so in dominating fashion. Following an Elida timeout with Celina on top 9-2, the visitors continued to dig a hole for itself with six straight errors after the stoppage in play to give the Green and White a commanding 15-2 lead.
The Celina lead stayed in double digits the rest of the way as Elida failed to reach double figures in game two falling by 17 points.
There was no fall off in Celina's play in game three as the Green and White led wire-to-wire again in a 13-point win to seal the match.
"Sitting on the bench it may have felt like we lost some intensity throughout the match, but that wasn't the case on the court and that was great to see," said Stoner. "Sometimes it's hard to keep that intensity up the whole time when the lead is so big, but the girls did a good job of doing that. When they played the ball, they played it hard."
Yoder led the way for Celina with a match-high 12 kills while Homan and Dorsten added 11 and eight kills, respectively.
With over half the season gone in the WBL, Stoner likes the position that her team is in right now.
"If both teams play the way that they are capable of playing, the league should come down to us and O-G for the WBL title," said Stoner. "O-G doesn't have any league losses or any losses on the season, but I'm not sure that they play as tough a schedule as what we do or not.
"We've looked pretty good in the WBL and we just have to continue to improve with some big games left," added Stoner.
Celina, which last won the WBL in 2003 as the final year of a three-peat, will host O-G at the Intermediate School on Thursday, Oct. 5th. The Bulldogs are back in action next at Fairmont for a trimatch on Saturday.
Phone: (419)586-2371, Fax: (419)586-6271
All content copyright 2006
The Standard Printing Company
P.O. Box 140, Celina, OH 45822