By Gary R. Rasberry
grasberry@dailystandard.com
Minster picked up some big performances resulting in low scores from its golfers to capture their second straight Midwest Athletic Conference girls golf title on Saturday at The Fox's Den in Celina.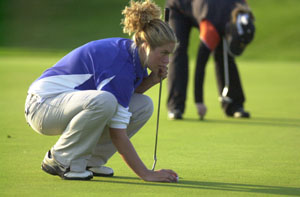 The Wildcats' round of 391 was 15 strokes better than runner-up Versailles, allowing Minster to take the overall title after going 8-0 in regular season duals.
New Bremen, which went 4-4 in the regular season, came up big with a third-place showing to leapfrog Parkway and St. Henry to take third place overall. After the Redskins and Panthers, St. John's took sixth, with Coldwater seventh and Marion Local eighth. Fort Recovery, which did not send a team to the tournament, finished ninth.
"They worked hard at it," said Minster coach Deb Ahrns. "It was some tough conditions: pretty windy and wet out. We don't play here frequently. This is a good lesson to step into next week because we play sectional here."
Minster brought home the medalist honors as well as Brooke Kuenning came up with the low round of 88, the only golfer to break 90. "It was rough, the greens were really fast," said Kuenning. "It was fun. I was just playing it hole-by-hole."
The rest of the Wildcats shot well on the day. Lindsay Piening was second-low for the Wildcats with a 99. Paige Becker shot a 101 while number one and two golfers Regina Slonkosky and Andrea Paxson each shot 103 to round out the scoring round.
New Bremen's Becky Hartwig was runner-up in the medalist standings with a 91. Versailles golfers Ashley Drees and Courtney Barlage came up with 99s.
In the battle for the MAC girls Golfer of the Year, the race came down to Slonkosky and Parkway's Amanda Kiracofe, who each had 90 match points coming into the tournament. As it turned out, both finished with rounds of 103. The pair each received 39.5 points and ended with 129.5 points, splitting the top golfer honors.
"It's a great honor," said the Parkway senior. "I did good at the beginning at the start of the year but struggled in the middle of the year. I came back in the end."
"I'm glad that (Kiracofe) being a senior she could take (a share)," said Slonkosky. "I hope to come back a little bit stronger."
Barlage finished third in the race with 127.5 points while Paxson was fourth with 124.
Most of the MAC teams will be back at the Fox's Den on Tuesday for the girls golf sectional.
Phone: (419)586-2371, Fax: (419)586-6271
All content copyright 2006
The Standard Printing Company
P.O. Box 140, Celina, OH 45822