By Gary R. Rasberry
grasberry@dailystandard.com
With two league losses already, St. Marys will now look to play spoiler in the Western Buckeye League the rest of the season while looking to get back into playoff contention.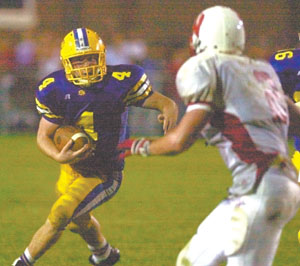 This week, the Roughriders will look to put the WBL into additional disarray should they beat Shawnee on Friday at Shawnee Field.
The Indians helped smash up the three-way tie that they shared with Wapakoneta and Kenton for first place in the league by beating Wapak 28-20 at Harmon Field. That, and Kenton's 14-7 loss to Defiance, gave the Indians sole possession of first place in the WBL at 5-0.
The series between the schools is clearly in St. Marys' favor with a 32-11-1 mark, but the past several seasons have seen Dick West's squad make inroads. In 2004, the Indians won a hard-fought 7-6 battle in Shawnee Township, snapping a 17-year losing streak to the Roughriders.
"I think coach West has done a very good job of getting the athletes out for football, first of all. Second of all, he's gotten them in the weight room," said St. Marys coach Doug Frye. "They're very physical in the trenches. They are a senior-dominated team." The matchup has made for a lot of excitement as well, highlighted by the 2003 game where West chose to punt near his own end zone in a tied game. Nick Yahl got the block and Adam Maze recovered the ball in the end zone with no time left to give St. Marys a 32-26 win at Skip Baughman Stadium.
The Indians have been paced by a balanced offense that highlights running back Brandon Stephenson and quarterback Josh Miller, both of whom are sophomores.
Stephenson, whose older brother Brian was a stalwart for the Indians in 2004 before heading to Yale, has carried for 725 yards this season and scored four times.
His yards picked up since he changed his jersey number from 34 to 1 -- his brother's number at Shawnee -- before the Celina game, rushing for 450 yards his last three games.
Miller has become a potent passer, throwing for 801 yards and eight touchdowns this season. Senior Jesse Norris (6-3, 191 pounds) is Miller's favorite target, snagging two touchdowns in the win over Wapakoneta last week.
Frye credits Shawnee's large, senior-laden offensive line, which averages 236 pounds with 6-4, 320-pound Joey Latsha manning a tackle spot, as helping the offense shine.
"You talk about Stephenson, Jacquice King of Defiance or Koby Frye of St. Marys, the first thing you talk about is the offensive line," said coach Frye. "Those kids have done a great job on the offensive line. That's where it starts. Shawnee has an exceptional line. That's going to be a key matchup, we're going to have to play in the trenches."
Defensively, Frye sees concerns with not only the defensive line, but also linebackers Derek Ligenfelter (6-2. 235, senior) and Kenny Marsh (6-2, 232, senior).
"Both are three-year starters. The kids are seniors," said coach Frye. "Both kids are big. ... Both can run. Division I-type linebackers. They're the first thing that sticks out right off the bat. They're big in the trenches with 280 (pound) and 240 (pound) tackles. They're big and they're physical."
The Roughriders have recovered from losing back-to-back games to Defiance and Wapak this season to pick up easy wins over Ottawa-Glandorf (35-7) and Van Wert (42-0) the last two weeks.
The vaunted wing-T of St. Marys has led the charge. Junior Koby Frye leads the Grand Lake area in rushing with 828 yards while Scott Laman has been solid when called upon rushing for 360 yards.
But a strange sight has been spotted of late on the football field when St. Marys plays -- a passing game.
Quarterback Derek Dunlap has shined brightly over the last couple of weeks by displaying his throwing arm. Dunlap is 16-of-30 this season with 205 yards passing and four touchdowns, recording a quarterback rating of 148.07.
"Derek has emerged for us the last couple of weeks," said coach Frye. "We've given him a lot more time up front, so our offensive line has improved immensely. Derek is a kid, I think, who is going to be an exceptional quarterback here at St. Marys. His confidence level has grown immensely. We're very comfortable and confident in throwing the ball when we need to and at anytime."