By Gary R. Rasberry
grasberry@dailystandard.com
COLDWATER -- Taking place before most of the area's conference meets, the annual Lions Invitational usually provides a good sneak peek at what conference -- and postseason -- challenges persist.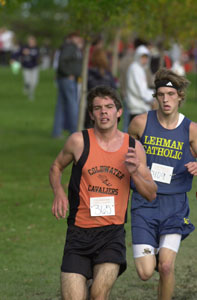 This year's meet had a few more interesting scenarios to offer.
The girls race gave teams a good look at what they could do without the overshadowing of state powerhouse Minster while the boys' race also had some turns as history was in the offering.
Versailles captured the girls meet title in a battle with Fort Loramie and Van Wert while the Coldwater boys got a great day of racing in finishing second behind WBL favorite Shawnee.
For Coldwater running ace, David Wilker, it was the first of two big runs on his home course. The Cavalier senior came in the winner of the previous three Lions meets and goes into next week with a chance to win the MAC meet title for an astonishing fourth time. But to get the first part out of the way, he faced a big challenge in Shawnee runners Chase Violet and Tom Scott.
Violet got close to Wilker on the back edge of Community Park and took the lead as they came into Cavalier Stadium for the final dash.
That's where Wilker made his stand. The senior sprinted as soon as he hit the track, getting a cushion on the final turn and holding on for the win in 16:09.10, six-tenths of a second ahead of Violet.
"I knew we were going to battle the entire way in," said Wilker. "He pulled ahead of me (with) a quarter-mile to go. We got on the track and I knew we had 300 meters to go. I put a surge in on the backstretch and I knew I had to hold that pace (or) he would catch me coming down the last straightaway. ... I dug down deep to try and pull something out."
Wilker, who has never finished anywhere other than first in high school on the home course, was happy to get this win out of the way so he could focus on next's week goal.
"That was in the back of my mind because I have not lost here yet. It was my last race here at the Lions and I didn't want to lose it," said Wilker. "That's why I was a little more emotional after the race. I wanted to finish off here at the Lions (with a win) and hopefully I can finish off with a win at the MAC, but more importantly, I hope we can win as a team. We won it last year and my freshman year. It would be nice to win it three years."
In the end, Shawnee edged out Coldwater 110-113 for first place. Minster set itself up nicely with a third-place showing as St. Henry was fourth, New Bremen seventh and New Knoxville 10th.
Local finishers in the top 10 included Cavalier Dusty Kuess in fourth, St. Henry's Doug Ranly in sixth, and Minster's Kregg Olding in seventh.
Coldwater coach Dan Pohlman was happy with his team's effort, but isn't using the results this week to even compute next week.
"Great day for the runners, but you know what? Throw out the scores," said Pohlman. "It's going to be a rat race next week.
"This is a great confidence boost for the team. It showed that we can run with the best teams in the state."
The girls race was more interesting with Minster not running its regular unit since the team will be in Alabama this weekend for a national invitational.
That opened things up for a pair of Division III powers to compete for the team title. In the end, it was Versailles taking the win with 87 points with Fort Loramie second with 104. Coldwater was fifth while the Minster contingent placed seventh. Fort Recovery took ninth with Marion Local 10th.
"This is a very quality race," said Versailles coach Mark Pleiman. "We had a good showing today. Little Mary (sophomore Mary Prakel, the race winner) had a very nice race. Next four girls came in all right."
Minster coach Jessie Magoto, who leaves today with her team to head south, was happy with the results of her group that ran today.
"The runners that ran today ran good times. They've been really strong," said Magoto. "I was really happy today.
"It's a good opportunity to see how they race. That's what I wanted to see when you take away some of the others, to see what happens. Emily Freytag, who was our number one (of the group) placed 15th. That's great to see. Some of the others stepped it up."
Fort Recovery's Mindy Vogel took third in the race and after that, the next highest local finisher was Amber Niekamp of New Bremen in 13th place.
In the junior high races, Minster took the girls race title with Shawnee winning the boys. The junior varsity boys race was won by Fort Loramie.
Phone: (419)586-2371, Fax: (419)586-6271
All content copyright 2006
The Standard Printing Company
P.O. Box 140, Celina, OH 45822