By Margie Wuebker
mwuebker@dailystandard.com
Ricky D. Driskill, 28, of Modoc, Ind., was to learn his fate Friday afternoon in Mercer County Common Pleas Court, but a defense motion has put it off for at least another week.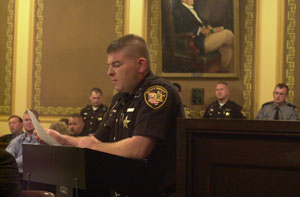 It was standing room only in the courtroom as dozens of uniformed officers came to lend support to one of their own who was scheduled to deliver a victim impact statement.
Driskill was to be sentenced on one count of felonious assault of a police officer, theft and vehicular assault. The expected sentencing has reset for 3 p.m. Thursday.
Driskill was charged and arrested last year after he drove left of center and struck a vehicle driven by a St. Henry-area man. Driskill then fled the scene in a truck belonging to a first responder. Unfamiliar with the area, he drove through a field and over an embankment into the Wabash River.
He then threatened police officers coming to his aid with a box cutter knife taken from the pickup truck. Repeated orders to lay down the weapon were ignored and pepper spray had no effect. He reportedly lunged at Mercer County Sheriff's Deputy Doug Timmerman, who fired one shot resulting in an abdominal wound. Although wounded, Driskill continued to threaten officers and finally threw the knife at Coldwater Patrolman Randy Waltmire. Court reports indicate the weapon was thrown with such strength that it dented the cruiser.
It ultimately took five officers to subdue and handcuff the man, who was later found to have three broken cervical vertebrae apparently sustained in the second crash.
Friday, defense attorney John Poppe filed a memorandum asking the court to consider that various health problems be considered as mitigating factors.
Judge Jeffrey Ingraham agreed to review the motion and exhibits entered by Poppe. They include three reports from health care professionals, namely psychiatrists who have met with the defendant or reviewed his past records.
Dr. Richard A. Nockowitz, a Lima psychiatrist with a neuropsychiatry specialization, spent considerable time on the stand explaining Driskill's bizarre behavior on May 1, 2005 could be a combination of factors -- complex partial seizures, a tumor in the pituitary gland, a deformity at the base of the skull known as kiari malformation, two sleep disorders (narcolepsy and sleep apnea) and possible head injuries sustained in two traffic accidents that day. In response to questioning from Mercer County Assistant Prosecutor Matt Fox, he later admitted alcohol withdrawal and/or drug intoxication could also be responsible.
Nockowitz, who acknowledged never meeting Driskill, said he based his opinion on reading the defendant's past medical files. He added that the bizzare behavior could all be the result of the complex partial seizures.
"I have based my opinion on a reasonable degree of medical certainly," he said. "This is a complex matter and we cannot know with 100 percent assurance.
In response to questioning from Fox, Nockowitz indicated Driskill's past medical records contained no mention of seizures prior to May 1, 2005.
Fox, who had earlier moved to strike the professional's testimony since Driskill has already entered pleas in both cases, pointedly asked Nockowitz how much he was paid for the opinion. The Lima man responded $3,000 for a retainer and $350 per hour for roughly 10 hours of work.
Driskill, a successful software salesman and the owner of a small handyman business, expressed remorse at the events that transpired and the people he hurt.
"That's something that haunts me," he said. "I didn't know what I was doing. I only remember bits and pieces."
Driskill, who is currently not receiving treatment for any of the problems Nockowitz cited, admitted using marijuana, cocaine and Ecstacy.
Fox cited a psychiatrist's report indicating Driskill talked about bingeing on alcohol and cocaine several times a month and experiencing blackouts.
He admitted drinking at three bars and taking at least two "bumps" of cocaine the night before the accident. The partying continued afterward at a friend's home. According to Fox, blood tests performed following the crashes and shooting also showed the presence of methamphetamine.
Timmerman addressed the court, describing how life has changed in the wake of shooting Driskill. His wife, frightened for her husband's safety, calls him each day at work to make sure he is all right.
"My family and I will never be able to get back the innocence that we had," he said gripping the podium with one hand and turning the page of his typed statement with the other. "I now do things differently when I am at work. I no longer trust people like I used to and that is not fair to me or to the people I serve."
In closing, Timmerman told the judge "I would ask that you sentence Mr. Driskill to a fair prison sentence. He committed this crime well over a year ago, it is time he pays for his wrongdoing."
Driskill faces up to 16 years in prison and $32,500 in fines.