By Gary R. Rasberry
grasberry@dailystandard.com
LIMA -- Celina volleyball coach De De Stoner didn't really have an answer why her Bulldogs had an up-and-down morning to start Division II sectional play against rival St. Marys.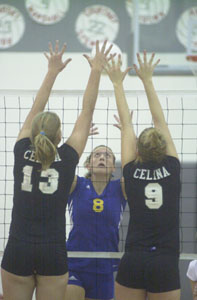 After dominating the first match 25-9, Celina had to hold off St. Marys in game two to take a 25-17 win before going back to dominating ways to beat the Roughriders 25-10 in the third game to end St. Marys' season.
The Bulldogs (18-5), the top seed at the Division II Lima Senior Sectional, return to action on Tuesday at 6:15 p.m. against the Van Wert Cougars. The 9-14 Cougars beat Kenton in four games to advance.
After dominating the first match, thanks in part to a seven-point serving run by Liz Homan that took the game from 4-3 to 11-3, the Roughriders came back with a little moxie in game two. The Bulldogs looked to be in control at 11-5 after a spike but Celina assumed the ball went down and St. Marys libero Brittany Roth got the dig and the ball landed just in on the Celina side to make it 11-6.
From there, St. Marys (4-17) began to plug away, scoring nine of the next 15 points to get as close as 16-15 after a Roth ace. Stoner called a timeout to settle the charges, which seemed to work when Betsy Hone hammered a spike down on the St. Marys side to get the sideout. From there, Celina took over as Homan and Cenzie Yoder contributed kills, with Homan hammering down the game-winner at 25-17.
"I guess it's Saturday morning," said Stoner when asked to reason why her team had dozed a bit. "I don't know why we didn't play well in that second game. Truthfully, we didn't play that well all day. The intensity, I call it crispy. We weren't crispy. ... We talked about it and it still happened.
"We're a lot bigger than St. Marys. We should have been (dominating the net). We should be able to take care of that part."
"Our passes started falling apart," said St. Marys coach Tricia Naseman. "... Against a team like that, you can't let it happen. We just let them go on a run and let them get a big lead."
The third game saw St. Marys get the lead and push the advantage to 6-3 before Celina got the serve back. With Lindsay Scheer serving, the Bulldogs scored seven straight points to go from down 4-6 to being up 11-6.
Celina then got the serve back and rattled off six straight off Homan's serving to go up 18-7. Homan had an ace with Hone getting two kills and a stuff while Nikki Siefker added a kill on the run.
St. Marys managed just three more points before Celina finished off the match with a Homan spike.
"We were kind of sluggish today," said Stoner.
"I'm proud of how they played today," said Naseman. "They came out and played hard. Celina is a good team. Obviously they were the number-one seed. They have awesome players. My girls never gave up the whole game. I'm proud of that."
Phone: (419)586-2371, Fax: (419)586-6271
All content copyright 2006
The Standard Printing Company
P.O. Box 140, Celina, OH 45822