NEW BREMEN -- Saturday's semifinals left four state-ranked teams for Tuesday night's doubleheader in the always tough New Bremen sectional site.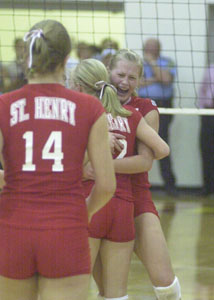 The much-anticipated doubleheader on Tuesday night lived up to its billing as in the opener 12th-ranked St. Henry upset number-one seeded and top-ranked Marion Local, 25-22, 10-25, 25-23, 15-25 and 15-11. In the nightcap, number-three ranked and second-seeded New Knoxville defeated 11th-ranked Fort Recovery, 30-28, 25-21 and 25-22.
New Knoxville (22-2) will play St. Henry (15-9) in a district semifinal game on Thursday night at 7 p.m. at New Bremen High School.

Marion Local-St. Henry As the scores indicated, St. Henry went through a Jekyll and Hyde match as it played very well in games it won and didn't play very well in the games it lost. According to Redskins boss Lori Schwieterman, the way her team played on Tuesday is no surprise to her.
"I really don't know what to say," said an elated Schwieterman. "I really knew we could do this. We showed signs of brilliance all season long and thank god we put it all together tonight and that's a good feeling.
"The way we played tonight, up and down, is kind of the way that we've played this year," continued Schwieterman. "We had a match earlier this year where we lost the first game 25-8 and we came back and won the match, so I guess it just comes back to perseverance. We talk about perseverance all the time with the girls and I guess perseverance won out tonight for us."
The split personality of the Redskins was on display in the final as they struggled in game five to finally seal the upset.
After taking the fourth game 25-15, Marion Local appeared to have all the momentum as it used a St. Henry error, a Nicole Klosterman service winner and a kill by Abby Niekamp to take a 3-0 advantage.
After a kill and a service winner by the Redskins' Rachel Schmackers cut the deficit to 3-2, Marion Local rebuilt its lead to 4-2 on a kill by Niekamp. St. Henry quickly tied the game at 4-4 on a hitting error and a Bethany Puthoff kill.
Marion scored thee of the next four points, keyed by kills from Kim Droesch and Niekamp to take a 7-5 lead. St. Henry retaliated, though, scoring the next four points, keyed on kills by Schmackers, Aimee Hess and Chelsey Kremer to take its first lead of the game at 9-7.
After Marion Local tied the game at 9-9, St. Henry scored three of the next four points sparked by kills from Kremer and Betsy Hoying to take the lead for good at 12-10, forcing a Marion Local timeout.
After the timeout, a kill by Hoying gave the Redskins a 13-10 advantage but Marion Local added a point off a kill from Brittany Thobe to make it 13-11. St. Henry moved to match point on a kill by Schmackers and the game ended when a Katie Schulze hitting attempt landed in the middle of the net.
"I think that the girls made the defensive adjustments as the match went on that we needed to make," said Schwieterman. "When we finally made the adjustments, we started to get the ball in the air and we started to take care of the ball on our side of the net and we were finally able to make Marion make some mistakes late in the match."
Fort Recovery-New Knoxville
The first game was the match maker as the Rangers were able to stave off five game-points to pull off the win.
After facing a game point of their own trailing 24-23, the Indians got a pair of kills from Tiffany Gaerke to take a 25-24 lead before a pair of Indians' hitting errors allowed New Knoxville to reclaim the lead at 26-25.
Fort Recovery came right back to take its last lead of the game at 27-26 on kills by Gaerke and Lauren Wenning, but New Knoxville rallied to take a 28-27 advantage on a pair of Fort Recovery errors.
The Indians tied the game at 28-28 on a kill by Wenning, but New Knoxville closed out the game emphatically with a pair of kills from Alycia Niemeyer.
The first game was a momentum settler," said Fort Recovery head coach Dianna Rammel. "I don't know what happened, we just did not come to play. I think if we could of won the first game, things may have been different, but we just never made the plays."
"The first game gave us a great deal of momentum," said New Knoxville head coach Jenny Fledderjohann. "Our plan tonight was to attack them and to keep attacking them. That was our goal and we did just that."
In the final two games, New Knoxville was able to keep attacking and they were successful in doing so while limiting the damage from a strong hitting Fort Recovery team.
In the first game, the Indians produced 19 points at the net to just 12 from the Rangers but in the second game New Knoxville scored 35 points at the net to just 25 for the Indians.
Senior Nicole Wright, who was limited to just three points at the net in the first game, exploded for 13 kills and three blocks in the final two games while Niemeyer also was strong with 15 kills for the match.