By Shelley Grieshop
sgrieshop@dailystandard.com
COLDWATER -- A local father and son -- separated by hundreds of miles -- are currently training for very different events.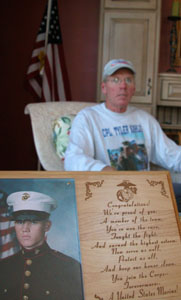 Cpl. Tyler Kahlig, a 2004 Coldwater High School graduate, is undergoing "war reality" exercises in California before making a return trip to Iraq in the spring with the U.S. Marine Corps.
His father, Nick Kahlig, has been conditioning for his first-ever marathon in Washington, D.C., this weekend in honor of his son and other servicemen and women.
"I'm very proud of him," said the 51-year-old Coldwater resident. "When Tyler said he was joining the Marines (two years ago), we were scared. Before he left for Iraq, he said he wanted to help bring peace over there. We couldn't have been any prouder."
Nick Kahlig took up running six years ago when he was invited to participate in a 5K race in North Star. Last year, while skimming through a Runner's World magazine, he stumbled across an ad for the annual Marine Corps Marathon in Washington, D.C. "I wanted to do this last year but I was too busy," he said.
Six weeks ago he began training for the grueling 26-mile course with family friend, Nick Ruchty, and other more experienced runners from the Coldwater area who previously participated in marathons and half-marathons. Ruchty will accompany his friend on the course through historical Washington, D.C. on Sunday.
"Part of the reason I'm running, of course, is for Tyler and to show respect for what he and others are doing," says Ruchty, who previously ran in an Air Force marathon at Wright Patterson Air Force Base in Dayton. "This is also a personal challenge for me as a runner."
Tyler Kahlig spent seven months in Iraq and returned home in March to find out he would be deployed again just a year later. A September 2007 wedding to fiance Beth Weis, also of Coldwater, was moved up and the couple will now exchange vows Dec. 16.
In his rural Coldwater home, Nick Kahlig became emotional as he looked through recent pictures of his only son -- most with Tyler in his military-issued, camouflage uniform. He paused at one photograph that shows the young man and fellow Marines exposing an improvised explosive device (IED) in a trench in the sandy soil. He flipped to another photo of a burning car that was fired upon by Marines when it was not moved out of the way after a third warning.
Tyler Kahlig, who is currently based out of Camp Lejeune in North Carolina, operated an amphibious assault vehicle during his tour overseas. Despite the obvious danger, he was always positive about his mission in Iraq during calls to loved ones back home, his father said.
"He said about 95 percent of the people there respected them and were nice," Nick Kahlig said. "He says he's just doing his job."
His son's courage inspires him and he plans to use that inspiration to finish the upcoming marathon. He and Ruchty will wear shirts honoring Tyler. Nick Kahlig also is attaching to his clothes a photo of he and Tyler together and a list of names of local men currently serving in Iraq -- 26 in all -- to encourage him along each mile of the race.
Also supporting the pair during the event will be their wives, Carol Kahlig and Pam Ruchty.
"It's been hard training for this, mentally and physically, but every time I think about the boys over there, I know I'll get through it," he said. "Our focus is on all our troops and the sacrifices they make for us every day."