NEW BREMEN -- The third-ranked team in the state in Division IV and second-seeded New Knoxville Rangers used a balanced and strong hitting attack to overcome sloppy play to rally and defeat the 12th-ranked St. Henry Redskins 25-20, 23-25, 23-25, 25-19 and 15-10 in the district semifinals on Thursday night at New Bremen High School.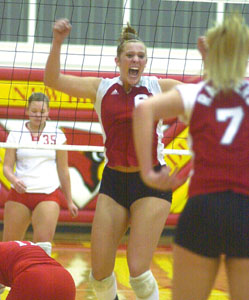 The Rangers will take a 22-2 mark to the district finals Saturday afternoon at 2 p.m. at Coldwater High School against either Lima Temple Christian or Crestview. St. Henry bows out of the tournament at 14-11.
On the night, New Knoxville recorded 46 kills and added 14 blocks as six different Rangers recorded at least one kill. Three Rangers recorded double digits in kills led by senior hitter Nicole Wright who blasted 21 kills and added three blocks. Senior Alycia Niemeyer added 24 kills and one block while sophomore Morgan Reineke chipped in 10 kills.
St. Henry stayed in the match thanks in large part to mistakes by New Knoxville. On the night, the Rangers committed 13 service errors and also gave the Redskins 21 additional points on hitting errors.
Betsy Hoying led the St. Henry hitting attack with 21 kills and two blocks while Chelsey Kremer added 10 kills and a block "I thought the girls really battled hard tonight," said New Knoxville coach Jenny Fledderjohann. "I was really proud of the way the girls battled back from adversity after losing the second and third games. I really think the girls wanted it more after they lost those two games, I'm really proud of them.
"St. Henry plays just such good defense and they pick up things and have great ball control and I just told the girls to keep hitting at them," continued Fledderjohann. "I told them that we just had to wear them down and not stop swinging and we finally caught on to that. Once we started swinging and finding the corners and the open spots, it came together for us."
St. Henry head coach Lori Schwieterman was complimentary in defeat.
"I was really proud of the way the girls battled tonight," said Schwieterman. "They fought all night long and I cannot fault the effort they gave.
"New Knoxville not only has a lot of weapons, they have a lot of good weapons," continued Schwieterman. "When Alycia (Niemeyer) and Nicole (Wright) get the ball, they can do just about anything they want to do. We needed to stop the two of them and unfortunately that did not happen often enough."
In the deciding fifth game, St. Henry had a 4-2 advantage as Betsy Hoying recorded three kills and combined with Shelby Buschur on a block of the Rangers' Nikki Kellermeyer to force a Ranger timeout.
After the timeout, New Knoxville quickly took control as it parlayed three kills by Niemeyer, a service winner by Wright and a net violation by St. Henry into a 7-4 lead forcing a Redskin timeout.
After the timeout, St. Henry rallied to tie the score at 10 as it went on a 6-3 run. Rachel Schmackers had two kills while Kremer and Bethany Puthoff each added a kill.
With the scored tied at 10-all, New Knoxville senior Meredith Fledderjohann came up big and turned the game as she blocked Schmackers at the net to give the Rangers the lead for good at 11-10. New Knoxville closed out the night strong as Wright recorded back-to-back kills to make the score 13-10. After a St. Henry timeout, New Knoxville closed out the game on kills by Haley Kruse and Kellermeyer.
Phone: (419)586-2371, Fax: (419)586-6271
All content copyright 2006
The Standard Printing Company
P.O. Box 140, Celina, OH 45822