By Shelley Grieshop
sgrieshop@dailystandard.com
Since opening its doors more than three years ago, the Grand Lake Regional Cancer Center in Celina is thriving, center officials say.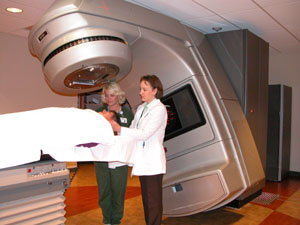 At least part of the reason for its success, so far, may be its interaction with the community, said Sheryl Darnell, executive director of the West Central Ohio Regional Healthcare Alliance (WCORHA) of which the Celina center is a member.
"We've tried to expand beyond our core services," she said.
The nonprofit cancer center participates in area health fairs, offering various health screenings at low cost to area residents, as well as providing some free health tests at the sprawling 24,000-square-foot facility along Havemann Road.
Officials at the $6.8-million building also spearhead their own fundraisers like Casino Night, held recently, which helps create funds for services like free mammograms and cancer events, like Relays for Life, across the region. Financially, the Celina center posted a profit of nearly $18,000 for the month of August, according to the latest figures released from Mercer County Community Hospital, Coldwater, a WCORHA member. The year-to-date numbers show a profit of $68,203.
The local center is one of two cancer treatment facilities operated by the Cancer Network of West Central Ohio and developed through WCORHA. The other center is Hi-Point Regional Cancer Center in Bellefontaine.
Hi-Point is struggling, officials admit. In August, the center posted a $25,400 loss, bringing a bleak year-to-date loss of nearly $500,000.
"In the Bellefontaine area there is tougher competition," said Mark Minnick, the CEO of Van Wert County Hospital and the president of the Cancer Network.
Its location close to metropolitan areas like Columbus and Dayton puts Hi-Point in a more competitive market, Minnick said.
WCORHA member hospitals with a financial stake in the centers include Joint Township District Memorial Hospital in St. Marys, Community Hospital, Mary Rutan Hospital in Bellefontaine, St. Rita's Medical Center in Lima and Van Wert County Hospital.
The Celina facility has two board-certified radiation oncologists. State-of-the-art technology at both facilities includes a linear accelerator that can deliver doses of radiation to specific tumor sites, limiting radiation to surrounding healthy tissue.
At the Celina site, three independent medical oncology physician groups lease space, providing services for patients requiring medical oncology and chemotherapy services. Hi-Point provides medical oncology services through Mary Rutan Hospital.
The goal is to offer patients all the services they might need at one location, Darnell said.
From the beginning, the Celina facility hoped to treat about 20 patients per day and they've succeeded, Minnick said.
"When we look back at the timetable we planned, we are where we expected to be," he added.
When Deb Werling of Celina discovered she had breast cancer in March, she was scared to death. After undergoing surgery at a local hospital and treatment at the Celina facility, she is recovering.
"I've become a big advocate for getting mammograms. Early detection saved me. I couldn't have afforded to wait much longer," said Werling, 47, a waitress who has begun pursuing a medical administration degree. "This whole experience has made me much more determined to succeed."
Werling said the atmosphere at the center is awesome, "including the best rocking chairs ever," she says with a laugh. The staff was exceptional, she added. But not having to travel an hour for a daily treatment that took just minutes, was the best part, she explained.
"I had a girlfriend who had to go to Lima every day of the week and try to keep up her job as a bus driver. I can't imagine juggling my life like that," she said. "Thank God we have an alternative here."
Ken Wieck, who is the administrative director for the facilities in Celina and Bellefontaine, said his focus is not as much on finances as putting patients first. Partnering with groups like the American Cancer Society which provides an entire room of resources on site -- even computers -- for anyone in the community seeking cancer information, is what it's all about, he said.
"The Cancer Network's goals are in sync with mine as far as patients being the priority," Wieck said. "These people have enough strife in their life, we're here to make things easier."