By Gary R. Rasberry
grasberry@dailystandard.com
FINDLAY -- Coldwater's run to the regional in volleyball came to a grueling end on Thursday as the Cavaliers fell to Huron in four hard-fought games at Liberty-Benton High School in the Division III regional semifinal.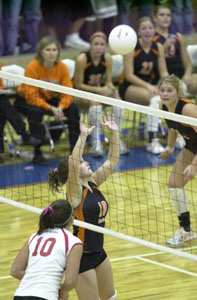 The Tigers took the first two games 25-18 and 25-20 before Coldwater game back in game three to win 25-22. The Tigers rebounded to take the fourth game 25-21.
Huron (23-4) plays Lima Central Catholic at 1 p.m. on Saturday for the regional title after the Thunderbirds swept Centerburg in Thursday's first regional semifinal match. Coldwater ends its season at 17-9.
"We played hard. We truly went out and gave it our best shot," said Coldwater coach Mandy Diller. "It was tough getting on a roll against a team like that. We kept playing back and forth."
Unlike Saturday's district match, where Coldwater dominated Evergreen with its power game, the Thursday match brought in several power-spikers on both sides. Huron boasted 6-3 junior Sara Sage and 5-10 junior Susie Isphording while the Cavaliers had their spiking line of Karla Niekamp, Lindsey Bruns and Kelley Lefeld. In all four matches, nine points was the largest margin of lead as both teams stayed close throughout.
In the opener, the match was tied up to 14-all before four straight Cavalier hitting errors put the Tigers on top 18-14. Isphording fired a kill of her own to make it 19-14 and Coldwater could get no closer than four points as the Tigers got the big opening win.
Game two looked like Huron was going to pull away and cruise to a win. Sage had seven kills with Isphording chipping in with four more kills as the Tigers were up 24-15 before the Cavaliers found a spark. With Emily Severt on the service line, the Cavaliers scored five straight points as Bruns and Tiffany Uhlenhake got kills in between Severt aces to get as close as 24-20 before Sage hammered a ball down to the Coldwater side to get the win for Huron.
The late rally sparked the Cavaliers in game three. With the score 7-all, Niekamp went back to serve and three Huron miscues mixed with a kill by Lefeld and a Severt block of Sage put the Cavaliers up 12-7 before the Tigers got the ball back. Huron managed to get back to within one at 14-13, but Bruns scored a block to put the Cavaliers up by two and put the game back in Coldwater's control.
Huron began to suffer from hitting errors, which allowed Coldwater just enough cushion to get the win and force a fourth game.
"In the first game, I really wanted to keep Marla (Cav setter Marla Hess) opposite of Sage," said Diller. "In the second game, I thought I could throw a little something different to get Marla to the front row a little quicker. Third game we went back to keeping Marla opposite. I think it was finally 'Hey, we can do this.'. ... We also passed much better in the third game."
The two teams battled throughout the early part of game four, tying up each other six times on the way to 14-all deadlock. Sage put the Tigers up for good at 15-14 with a kill, then got back-to-back aces on her service run to put the lead to 19-14 before Coldwater recovered the serve. Sage later recorded her 25th kill of the match to end the Cavaliers season.
"Coldwater is a very aggressive team. They're going to keep swinging on you no matter what," said Huron coach Don Wood. "Once they get clicking, they're dangerous, as they showed in game three. We're lucky enough to withstand that and pull it out in the last game. I have nothing but respect for the way they played."
"That's what I told the girls; They have to keep their heads up," said Diller. "Hopefully, (they) established something for Coldwater volleyball again. They can build on each year to what they have."
Phone: (419)586-2371, Fax: (419)586-6271
All content copyright 2006
The Standard Printing Company
P.O. Box 140, Celina, OH 45822