By MARGIE WUEBKER
mwuebker@dailystandard.com

An anonymous tip from a citizen led to the arrest of a fugitive featured on the television show "America's Most Wanted" early Sunday morning at a local bar.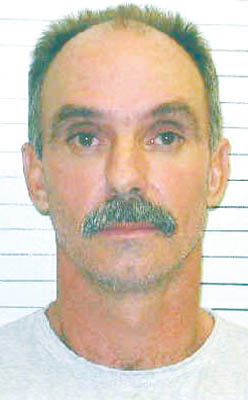 Jerome Alan Bargo, 48, had been on the run for 15 years after escaping from an Arkansas jail in the wake of a conviction for burglary and attempted murder of a police officer.
He reportedly offered no resistance when approached by three police officers at the Club Cafe, 107 S. Main St., shortly after midnight. He was seated at the bar with two companions — one reportedly from the Celina area and the other a Springfield resident.
"We looked at the information on the television show's Web site before heading out," Celina Police Sgt. Tom Wale told The Daily Standard this morning. "We recognized him right away."
Although Bargo offered no resistance, he reportedly argued he was not the man featured on the television show and produced a fake Ohio operator's license bearing another name.
"He gave inconsistent information during questioning and we took him into custody," Celina Police Chief Dave Slusser said. "Other identifying marks like tattoos made us believe we had the right guy."
A tattoo of a buzzard on one arm, the grim reaper on another and three-inch bluebirds on his chest were easily identifiable. Officers discovered upon booking their prisoner into the Mercer County Jail that his entire body is covered with colorful designs.
Communication with the Federal Bureau of Investigation produced a copy of Bargo's fingerprints. Verification that Bargo and the local bar patron were one and the same came within an hour.
During processing and booking, officers determined the one at the bar who claimed to be from Springfield also had supplied false information. They returned to the bar to discover he had fled the area.
Later Sunday morning, police officers, Mercer County Sheriff's deputies and Ohio State Highway Patrol troopers converged on Cole's Motel, 565 E. Market St., where the men reportedly had been staying.
Six to seven people were evacuated from the premises and large spotlights illuminated the area. When no one responded to orders to come out, the officers made a "dynamic entry," according to Slusser. No weapons were found inside the empty room.
Slusser believes Bargo came to Celina on Saturday to meet a local resident he apparently has known for sometime. No description is available on the vehicle they drove because they reportedly drove around town in the local man's car.
Bargo has a long history of escapes, including four from Arkansas jails. The latest came on May 10, 1988, while he was serving 140 years for the attempted murder of a Bentonville police officer and a rash of thefts.
He managed to elude police in numerous states as well as the FBI and U.S. marshals. His story has appeared at least four times on the television shows "America's Most Wanted and Unsolved Mysteries." His face also graces a set of cards featuring criminals sought by the FBI.
Kentucky State Police want to question Bargo, who has at least 10 aliases, regarding the death of a state trooper, according to Slusser.
He also noted that Bargo had been arrested Sept. 3 for a drug violation in Sanford, N.C. He produced an operator's license bearing the name Michael Bruce Walters. Officers released him the next day before fingerprints confirmed his real identity.
Police have informed corrections officers about Bargo's penchant for escape.
Slusser said the investigation is continuing and additional charges are likely.
Phone: (419)586-2371, Fax: (419)586-6271
All content copyright 2003
The Standard Printing Company
P.O. Box 140, Celina, OH 45822