By SHELLEY GRIESHOP
sgrieshop@dailystandard.com

A 20-year-old Portland, Ind., man was killed and a Fort Recovery woman is in critical condition following a two-car accident Wednesday afternoon at a rural intersection north of Fort Recovery.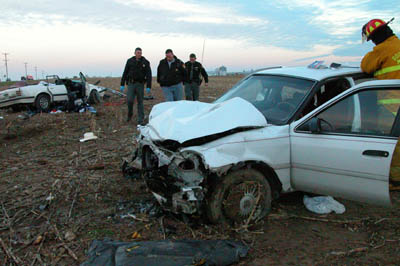 Pronounced dead in the stubble cornfield where both vehicles came to rest was Daniel J. Schoenlein. The 2001 Jay County (Ind.) High School graduate was an employee of Hemmelgarn & Sons, Philothea, and has relatives in the Mercer County area.
The driver of the second car, Karen Wetz, 50, 117 E. Broadway St., Fort Recovery, was taken to Mercer County Community Hospital, Coldwater, then transferred by Life Flight helicopter to St. Rita's Medical Center, Lima. A hospital spokeswoman said Wetz remained in critical condition in the intensive care unit at press time today.
Schoenlein and Wetz were the only occupants in their vehicles, which collided at the intersection of Wabash and Philothea roads at 4:50 p.m. Wednesday.
The report from the Mercer County Sheriff's Office said Schoenlein was eastbound on Philothea Road when he failed to stop for the stop sign. The 1991 Oldsmobile Cutlass Sierra he was driving was struck broadside by the 1993 Mercury Topaz driven south by Wetz who had the right of way, the report said.
Both vehicles landed in the southeast corner of the intersection. Debris littered the muddy field as authorities and rescue workers combed the accident scene just before dusk.
Assisting at the scene were members of the Southwest Mercer Fire Department and Mercer County Emergency Response Volunteers.
Schoenlein's death marks the seventh traffic fatality in Mercer County this year. His obituary appears today on page 5A.
The last fatal accident in Mercer County also involved an Indiana man, James McMillan, 51, who was killed two weeks ago when a tanker truck he was driving overturned north of Mendon.
Phone: (419)586-2371, Fax: (419)586-6271
All content copyright 2003
The Standard Printing Company
P.O. Box 140, Celina, OH 45822