By Margie Wuebker
mwuebker@dailystandard.com
NEW KNOXVILLE -- Sticking together through good times and bad has a new meaning for New Knoxville High School seniors Laura Murphy and Jim Longley.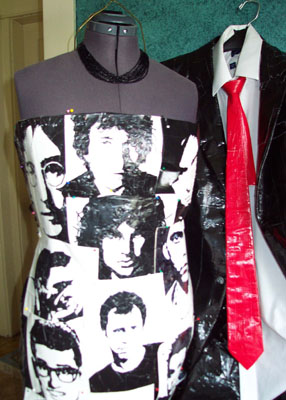 The two friends will be heading to the prom Friday night in outfits fashioned from nearly a dozen rolls of duct tape -- black, white and red to be exact.
They hope to win $2,500 scholarships for themselves and the school by taking part in a Stuck at the Prom competition sponsored by Henkel Consumer Adhesives Inc. of Avon.
Murphy heard about the contest several years ago and considered it a novel way to earn money for college. She began seriously considering the venture last summer and made some preliminary sketches.
"I ordered 31 rolls of duct tape and then went looking for a willing date," she says with a chuckle. "I needed someone who would agree not only to wear a suit made out of duct tape but help with the actual work as well." The search began and ended with Longley, a good friend and last year's prom date. They quickly settled on a music theme.
"The project really sounded cool and there was no one else I wanted to go to the prom with, so I hopped on board without any reservations," he explains. "I'm a music geek so a theme involving music legends certainly appealed to me."
Participants are permitted to cover clothing with duct tape so Murphy selected a dress from her closet and added more material to make it floor length. Longley chose comfortable pants from his wardrobe and then headed to Goodwill, where he purchased a sport coat and tie.
The 18-year-olds set to work two months ago neatly covering the clothing with strips of duct tape. Longley's efforts produced a black suit with an attractive pin-striped pattern. Murphy also covered her strapless gown with black tape and then added a flowing white train for contrast.
"I like black because it's such a slimming color," she says. "It also makes a great backdrop for the black and white pictures of the singers we chose."
The couple spent an enjoyable afternoon looking through Longley's extensive CD collection and picking singers they really liked -- Bob Dylan, Jim Morrison, John Lennon, Johnny Cash, Jimmy Hendrix, Bob Marley, Louie Armstrong, Elvis Presley, Buddy Holly, Dizzy Gillespie and Jerry Garcia.
Murphy found photos of their choices on the Internet. She enlarged them and made a pattern, which she overlaid with white and black duct tape to create a portrait of each singer.
"I've already had someone offer to buy John Lennon for $25," she says. "That covers the cost of four rolls of duct tape. Other people have expressed similar interests and there is always the possibility of offering the outfits for sale on eBay. At this rate I may recoup my initial $200 investment. I had no idea how much tape to order; I'm hoping the company will take back the unused rolls."
Work continues as the Friday night prom looms closer. Longley has completed his suit and wrapped not only his tie but a well-used pair of Converse high-top sneakers in brilliant red tape. The pristine shirt awaits a layer of tape and he hopes to complete a red hat if time permits.
"Hey, these turned out pretty cool," he says holding up the finished shoes complete with Chuck Taylor All-Stars logo. "They were ready for the trash but I just extended their life by another six months or so."
In between finishing her dress and making a corsage and boutonniere out of -- you guessed it -- duct tape, Murphy is completing pictures of more music legends to decorate Longley's suit and shirt in patchwork fashion.
"My art teacher (Sharon Witter) has been so supportive," she says. "She is giving me credit for all my work in art class. A few teachers quickly pointed out I wasn't in the art room when they caught me sketching during other classes."
The 60-hour project has gone smoothly for the most part. However, Murphy encountered one unexpected crisis.
"I didn't take into account that duct tape doesn't stretch the way fabric does," she says moving to the nearly completed gown arrayed on a seamstress' mannequin. "I can't close the back zipper, but that's no big deal. I'm going to change the design a bit and give it a laced-up look in back."
A fetching black and white hat with matching shoes and purse, all coated in duct tape, complement the unique gown. She initially thought about making a necklace but dismissed the additional project in the interest of time.
"I'm getting stressed out," she admits with a sigh. "Jim's the laid-back one. He keeps telling me everything is going to be fine. I'm hoping we win; he's positive we will. A project like this definitely involved a team spirit and we make a pretty good one."
Murphy and Longley plan to wear their duct tape finery for the 8 p.m. promenade. After posing for classmates and a professional photographer, they plan to slip into more comfortable clothing for dancing.
"Imagine wearing a really, really tight sleeping bag on a hot summer day," she says. "Duct tape is great but it certainly doesn't breathe or stretch the way fabric does. The possibility of doing any kind of dancing in this gown is pretty much not going to happen."
Longley, on the other hand, doesn't consider his suit too confining for a few trips around the dance floor. He chuckles as she points out, "You aren't the one wearing a tight dress."
Their formal photograph must be in the hands of contest coordinators by June 11. On-line voting at www.ductapeclub.com runs from June 18-27. Winners will be notified June 30.
The New Knoxville seniors are pleased with their efforts but have no intention of embarking on another ambitious project anytime soon. Questions regarding what they intend to do for an encore elicit the same response -- "graduate."
He plans to major in creative writing and minor in jazz studies at Bowling Green State University and she will head first to the Paul Mitchell Beauty School in Utah and later to massage therapy training, hopefully with duct tape scholarships in hand.