By Shelley Grieshop
sgrieshop@dailystandard.com
Their locks of hair were as shiny as the lacy ribbons on their flowing dresses as three little girls nervously approached the stage Tuesday afternoon at the Mercer County Fair.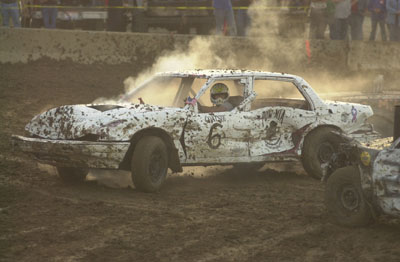 Beverly Edwards, the organizer of this year's first-ever Little Miss Mercer County Pageant, coaxed the trio up the steps and into place.
"Come on, come on," she said in a gentle tone. "Who wants to be first?"
The three 7-year-olds looked at each other, waiting for the bravest among them to volunteer. No one did.
Finally, one of the girls began the event by taking the microphone, introducing herself and making her way shyly across the stage. The contestants were asked to walk across the stage, pausing only momentarily at several key spots to smile at the crowd before exiting.
When the judges tally was in, there were no tears, just grins from ear to ear. Since awards were presented to three places, all the little princesses took home purple trophies.
First place went to Bobbie McGhee of Celina, a recent state finalist in the National American Miss Pageant. McGhee is the daughter of Greg and Rachelle McGhee. Second-place winner was Baylee Casto, also of Celina, the daughter of Mike and Shawna Casto. Serra Pax of Coldwater, the daughter of Missi and Roger Pax, took third.
Edwards, owner and operator of Center Stage dance studio in Celina, said she was a little disappointed that only three girls entered the contest but hopes to get more participants Saturday when the 4- to 6-year-olds square off for the title. Bobbie McGhee will crown Saturday's winner.
Saturday's pageant begins at 2:30 p.m. and contestants are asked to sign in at least 15 minutes prior at the Revolution Stage across from the grandstand.
Opening day of the fair Tuesday was deemed a huge success by Mercer County Fair Board Secretary Denise Cummins.
"Attendance was great," Cummins said this morning. "The numbers aren't available yet but they are definitely up."
The cooler temperatures were welcomed by fair patrons as well as the livestock. "It's obviously much easier on the animals," she added.
Cummins urged the public to come on out and join the fun as the summer winds down.
"Get the kids out here, summer's almost gone and the fair's a great last-minute vacation idea," she said.
Phone: (419)586-2371, Fax: (419)586-6271
All content copyright 2004
The Standard Printing Company
P.O. Box 140, Celina, OH 45822