By Shelley Grieshop
sgrieshop@dailystandard.com
COLDWATER -- The smell of seasoned roast chicken and vegetables fills Terry Roode's kitchen as her father clears the way for his grandson's warm tray of biscuits.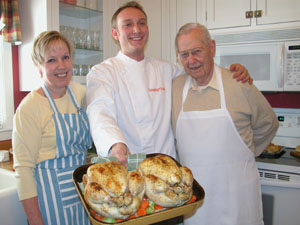 Whoever coined the phrase "too many cooks in the kitchen" certainly didn't know this family of chefs who gathered at Roode's Coldwater home Monday for an evening meal. Roode, her adult son, Jonathan, and her father, Bill Donauer, represent three generations of culinary expertise.
"Making dishes from scratch was something I grew up with," says Terry Roode, 48. "I remember working toward a cooking badge in Girl Scouts when I was young and needing all-purpose flour. We had cake flour and other specialty flours, but never just plain all-purpose flour."
Each of the three has their own special talent in food preparation.
Donauer, 84, retired owner of Home Bakery in Coldwater, acquired his love of baking while working as a kid at a bakery in Minster. During World War II, he spent 33 months of his 40-month tour aboard a Navy ship feeding hungry sailors. "When I came back, I worked for a cake and cookie company in Dayton," says the Coldwater man, who retired in 1988 after 38 years at his Main Street bakery.
For decades he rose each day, long before the crack of dawn, to hand-roll pastry items. He says he was self-taught in the fine art of creating donuts, pies, bread and cakes.
"Practice, practice, practice," he jokes, is how he earned the reputation of selling the most delicious donuts and buns in town. "I just loved to bake."
Terry Roode grew up working in her father's bakery, just as her three sisters did.
"I remember when I was little, dad giving me cookies and letting me go along with him on deliveries," she says.
Roode, also a home interior designer, operates a dessert catering business that has served local customers as well as those from Dayton to Columbus. "Make Mine Chocolate" is a sweet success so far, she says.
"I love making desserts that are pretty to look at and taste good, too," she says, while flipping through photographs of her work.
Roode's menu includes sought-after turtle brownies, cheesecakes, fudge, carrot cakes, cookies and many other delicious desserts. She also designs unique items like place cards made of chocolate for weddings and other festive affairs.
Then there's Jonathan, Roode's 24-year-old son, who earned an associate degree in culinary arts from Johnson & Wales University in Charleston, S.C. -- the same school that graduated cooking guru Emeril Lagasse. While in the southern states, the 1998 Coldwater High School graduate honed his talent at several world class Bistros and Grills, he says.
Jonathan Roode now lives in Brooklyn and commutes each day to his job as a chef in Manhattan at the trendy "Splashlight," a digital photography studio that also houses a French cafe. He is one of five chefs who prepare a variety of foods for crews in the studios where many high-profile magazines (Seventeen, Cosmopolitan, etc.) are created.
He frequently sees well-know figures come and go such as Steve Martin, Donald Trump, Sarah Jessica Parker, Hillary Clinton, Sarah Ferguson and Regis and Kelly.
"I remember the day Steve Martin came into the studio," Jonathan Roode says, adding he noticed the comedian wearing the same sheik suit that evening on The David Letterman Show.
In his spare time, he periodically caters parties on the upper east side of Manhattan. He once prepared hot dogs, not exactly a gourmet item, for a birthday party on the roof of a 30-story building.
"It was just a little kid's birthday party. I turned around and saw Candice Bergen standing there," he says matter-of-factly.
He frequently offers his chef services at upscale restaurants in the Big Apple just to get a glimpse of more experienced chefs at work.
"It's like an apprenticeship thing, you watch and get samples of their work," he explains. "One time I was walking home from a restaurant and I counted up how much food I'd sampled. I know I ate at least $70 worth."
While all three cooks feel in their element in the kitchen, they differ greatly on their specialties. Jonathan Roode takes pride in his perfected souffles; his mother struggles to pick just one forte, yet believes her cookies are best. But Donauer doesn't give the question a second thought.
"Twisters," he says with a smile. "I started making them in '66 or '67, with cinnamon in the center. They were immediately a hit."
Whether gourmet cooking or baking an ordinary loaf of bread, the three agree all chefs must possess an adventurous spirit.
"Just remember, not every dish is going to be a home run," Jonathan Roode adds, as the oven timer sounds and the family inches closer to the dining room.