By Margie Wuebker
mwuebker@dailystandard.com
FRENCHTOWN -- Jimmy Baltes reaches for a pair of drumsticks as recorded music from the Big Band era fills the utility room at his Darke County home.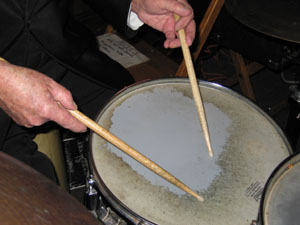 The sticks tap rhythmically on the gray and white Formica tabletop. He never loses the beat while transferring to a cardboard box lid.
Music remains a way of life for the 78-year-old drummer who heads The Legendary Jimmy Baltes Band. Their latest gig Saturday night at the Osgood American Legion Hall included swing, waltz, Latin, ballroom, polka, Big Band, Dixieland, country and rock tunes. Whether playing "In the Mood" or "Tuxedo Junction," there is no sheet music. The songs were memorized long ago.
Baltes is a self-taught drummer who began playing at the age of 11. His family lived on a small farm near Greenville, and the chicken coop soon became a concert hall.
"I used two pie pans from my mother's kitchen as cymbals, a wash tub as a snare drum and tobacco laths for drumsticks," he says with a chuckle. "You should have seen the chickens fly when I started playing. Oh boy, did my mom get mad." In 1938 the family moved to Frenchtown, but the music continued. Playing in a band came before he was old enough to shave.
"My older brother Earl bought a saxophone, and I kept playing makeshift drums," Baltes recalls. "One day we were messing around in the barnyard and he suggested we start up our own band."
The prospect necessitated a trip to Pop's Music Store in Dayton, where Earl Baltes plunked down $12 -- money he earned by playing with an area band -- to buy his brother a real set of drums complete with drumsticks.
The band, which included father Leroy on fiddle, mother Ella on piano and brothers Jimmy on drums, Earl on saxophone and Ralph on guitar, began playing for weddings throughout the area on an average of three to four times a week.
"We started in the afternoon and played right through till midnight with a supper break," Baltes says. "We earned $20 a job. My share was $1 as the youngest and least experienced. That was good pay for a kid back in the days when money was scarce."
His older brother had started a 10-piece band known as The Melody Makers prior to World War II. Baltes was instructed to "keep the band going" when the draft notice arrived. He did just that until his brother returned home two years later.
The soldier returned with dreams that evolved into a dance hall known as Crystal Ballroom during the fall of 1947. The mecca for music lovers, located across state Route 185 from the home place, could accommodate 500 to 600 people. A tornado took the building down the following year, and it was replaced by a larger hall that could seat 1,400 people. Three bands -- The Melody Makers, The Bumble Bees and Francis Leiss' Dixieland Band -- performed each Saturday night.
Baltes had an opportunity to meet and have his picture taken with the likes of Count Basie, Duke Ellington, Guy Lombardo, Lionel Hampton, Louie Armstrong, Sammy Kaye, Cy Zentner, Tommy Dorsey, Les Elgart and Jan Garber who came in for Sunday night shows.
"I'll never forget the first night Guy Lombardo came to Crystal Ball, which was located smack dab in the middle of Darke County cornfields," he says with a chuckle. "He expected some big, high faluting place in the big city. He did not think anyone would show up, but 1,500 folks came that night including charter bus groups from Indianapolis and Columbus. He never said another word."
After his older brother quit The Melody Makers to devote his attention to Eldora Speedway and Crystal Ball closed in the late 1970s, Baltes took a 10-piece band on the road playing more than a hundred bookings a year throughout Ohio and Indiana.
"I always kept good tires on my van," he says. "It didn't matter what kind of weather happened to be brewing because the show had to go on. In all my years in the business, I never missed an engagement ... somebody must have been watching from above. Most nights we didn't get home till 3 a.m. or so. Younger men can handle that stuff; mature guys like myself need more sleep."
Baltes, who has played with more than 150 different musicians during his career, now heads the band that bears his name. Musicians Don Brumbaugh, Dale Stevely and Dwight Ressler perform with him for 25 engagements or so per year. He adds several more musicians for annual performances at the Darke County Fair, Versailles Poultry Days and the Fall Festival at Lake Loramie State Park.
"I remember going as a high school kid to watch bands arrive at places like Edgewater Park in Celina, Indian Lake at Russells Point and Lakeside in Dayton and thinking someday that will be me and my band," he says. "Dreams come true if you work hard. I always carried a set of drumsticks with me in case I had an opportunity to play. I had a chance to sit in with the likes of the Donn Smith, Bob Long and Al Best orchestras over the years."
He tried to retire 14 years ago after marking his 50th anniversary in the music business. That lasted a year because the telephone kept ringing with offers he could not refuse.
He admits to having slowed his step a bit, but plans to continue drumming for at least two more years until he marks his 80th birthday.
"Music is as much a part of my life as breathing," he says. "I love music. I eat it. I sleep it, and I dream it."