Editors note: For privacy reasons The Daily Standard used fictitious names for the local family who shared their experience with a child with Attention-Deficit/Hyperactivity Disorder (AD/HD).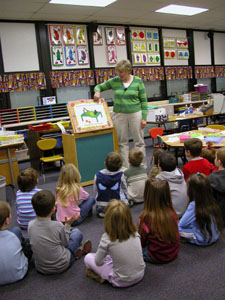 By SHELLEY GRIESHOP
sgrieshop@dailystandard.com
While sitting in a pew at church, Jack tugged at his socks, pulled on his pants leg, then wiggled back and forth until his mother was ready to scream.
A mere stern and disapproving glare from his parents couldn't stop Jack's annoying behavior.
"I didn't realize how bad it was until the day we finally got him under control," says Andrea, his mother.
Alone, the family dealt with their son's problem, embarrassed at times that they couldn't handle their own child. It wasn't unusual for his disruptive actions to turn into violent tantrums, his mother says.
"Several times I had to put him in a cold shower with me just to settle him down," she recalls.
Then, at age 15, after eight years of counselors and doctors, Jack was diagnosed with Attention-Deficit/Hyperactivity Disorder (AD/HD). He was put on medication to control his constant impulses and a new Jack was born, his parents say.
"Within 30 minutes, I'm not kidding, he stopped fidgeting," she says.
AD/HD is a medical condition that can make it difficult for a person to pay attention and/or control his or her actions. Key signs in children are inattentiveness and hyperactivity with weak impulse control. Although researchers don't know exactly what causes the condition, they believe it runs in families.
The Mercer County Educational Service Center (MCESC) plans to offer support for families with AD/HD with a workshop to be held Monday in Celina.
Kim Nellis, special education director at the MCESC, says parents are often first puzzled by their child's erratic behavior. Many finally seek help when the youngster's grades suffer or she or she has problems making friends, she says.
"The bottom line is they want their children to be happy," Nellis says.
When a toddler shows AD/HD tendencies it's easy to label the episode "the terrible 2's," Nellis says. As children reach preschool age, parents sometimes blame themselves and that often causes conflicts within the family.
To make matters worse, other siblings can become resentful of the attention showered on the difficult child, she explains. And with today's crazy lifestyles, everyday events can become a nightmare for AD/HD children who need constant structure, she adds.
Parents are urged to have their children tested by specially-trained staff at the MCESC or other professionals if they suspect they have the condition. Medication is prescribed in some cases but not all; other options often include educating the child's family, friends and teachers about AD/HD so they know what to expect.
An AD/HD Support Group was formed in October 2004 by MCESC staff and meets every other month in the Central Services Building in Celina. The next meeting is slated for 6:30-8 p.m. Tuesday and is open to anyone in the surrounding area who would like to know more about the subject.
"The support group has been well received since its start," says Jeannette Wehrkamp, a parent mentor for the MCESC and support group leader. "It's very reassuring to those who attend to talk to others dealing with similar problems."
Joyce Kubik, an AD/HD coach and skills trainer from the Cleveland area, says she and her two children all have AD/HD. She knows first-hand how important it is for children when others understand how they feel.
"Kids feel better when mom and dad know what's going on inside their head," she says. "The kids I see at these workshops tell me they no longer feel like they're crazy or stupid when their parents learn what they're all about."
Kubik says AD/HD causes her thought process to change every moment of the day, unlike most people.
"It's like the excitement of Christmas 24 hours a day. Most people can't understand that," she says.
Andrea says finding an answer to her son's problem was like a dream come true.
"He's 20 now and in college. He went from D's and F's to A's and B's," she says proudly. "Years ago people would have just called him lazy."
She wants other parents to know it's never too late to get help.
"Talk to a teacher, a counselor, a doctor. Go to a support group. Be consistent. Repeat over and over what kind of behavior you expect and have him (or her) repeat the rules back to you again and again," she says. "And most importantly, don't sweat the small stuff."