By Margie Wuebker
mwuebker@dailystandard.com
MINSTER -- Amy Makemson is an artist in her own right, preferring a wooden rolling pin and a kitchen counter to a long-handled brush and a sturdy easel.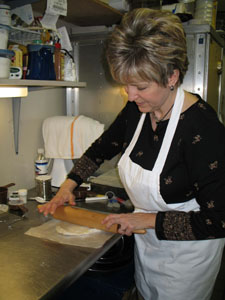 "All I ever wanted to do was make pies and bread like my Mom," she says lightly sprinkling flour over a smooth ball of pastry dough. "I took some detours and finally realized my dream here at Haus der Eleganz."
She joined the staff of the gourmet coffee bistro and gift shop in July 2004. Customers quickly celebrated her arrival with generous portions of Upside Down Apple Pecan Pie, Chocolate Mousse Cake, Peach-Red Raspberry Pie, Flourless Chocolate Torte with Red Raspberry Sauce and other decadent creations.
Makemson, who has a degree in home economics and experience as a cooking show host in a five-state area, does not consider herself a pastry chef.
"Yes, I have experience, but I do not have the credentials to call myself a pastry chef," she admits with a smile. "Yes, I have been baking a long time and it continues to be a learning experience." The Steubenville native credits her mother, the late Margaret Ternasky, with instilling a love of cooking and baking through example. She remembers standing on a chair at her mother's elbow trying to make bread and pastry.
"Mom would give me pieces of dough, and I would roll and braid them," Makemson says. "They wound up on the floor more than once."
Following graduation from Miami University, she went to work for Homemakers Schools presenting cooking demonstrations throughout Ohio, Indiana, Michigan, western Pennsylvania and western New York. The 41Ú2 -year stint served as a stepping stone to test kitchen assignments for brand-name appliance companies and romance. She met her husband, Mark, in Dalton, Ga., where he worked as an engineer and she served as a microwave cooking specialist.
The Makemsons moved to Fort Loramie in the late 1990s after he took a job at the Kitchenaid Division of Whirlpool in Greenville. She initially taught some classes there at Kitchenaid Experience before Haus der Eleganz owner Becky Schmiesing offered her the kind of job she always wanted.
"Becky heard about my pastries and bread from a friend," she says. "Now I'm doing what I always dreamed of doing and having fun in the process."
Makemson works at least two days a week in the narrow stainless steel kitchen, where her artistry translates into dinner rolls, pies and special occasion desserts like Sacher Torte (chocolate cake with apricot glaze and chocolate ganache).
She said she begins with the finest ingredients possible and measures everything with infinite care, avoiding any temptation to pack down flour.
Although her recipe remains a closely guarded secret, she explains the key to flaky pie crust is to work Crisco shortening into the flour with your hands and to use ice cold water. She then places the unrolled pastry dough in the refrigerator to chill.
An admitted perfectionist like her mother, she spends extra time working on lattice tops and fluted edges. Perhaps that is why customers frequently look at the counter top display and ask, "Are these pies real?"
Creativity in the kitchen does not stop at the end of the workday. Family and friends are the first to admit her brownies with chocolate fudge frosting are the piece de resistance. Even she agrees, noting her penchant for dessert is the prime reason for buying exercise equipment.
"Baking is an art form just like painting and acting," she says. "It's also my way of showing love for others."