Saturday, February 26th, 2011
Bulldogs stand alone on top of WBL
Celina wins first outright league championship in 12 years
By Ryan Hines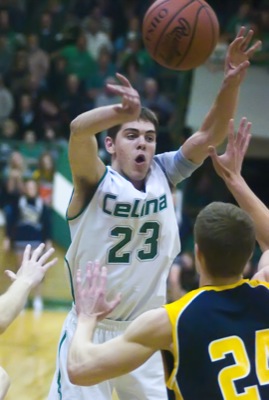 CELINA - Forgive the Celina boys basketball team for being selfish, they weren't in the sharing mood.
The Bulldogs weren't satisfied with a share of the Western Buckeye League championship, so they went out and won it all for themselves with a 62-59 victory over Ottawa-Glandorf on Friday night at the Fieldhouse.
"Both teams were playing for a league title. They (O-G) wanted a share of it and we wanted it outright. Just feels great to come out on top in such a big game between two good teams," said Celina senior Nate Bihn, who scored a team-high 17 points for the Bulldogs.
It's the 16th WBL title all-time for Celina (17-3, 8-1 WBL) and the first outright crown since 1998-99.
"Feels great to win it all by ourselves in front of our fans on our homecourt. We knew that we won it last week, but none of us wanted to celebrate it because we wanted to have it all to ourselves," said Celina senior John Homan, who scored 13 points and had a game-high 14 rebounds. "Now we can celebrate."
Ottawa-Glandorf (12-8, 6-3 WBL) had a chance to force a three-way tie for the league title with a win over Celina but the Titans have to settle for third place as Defiance (16-4, 7-2 WBL) grabs second place.
"We started the league schedule with a loss to Defiance, but the guys never doubted themselves and fought like crazy to achieve a goal they had for this year," said Celina head coach Chris Bihn. "They have played hard all year and deserve every bit of success they are having. They have been working toward this for years as a group and it's very rewarding for me as a coach to see it all come together with an outright league title."
It wasn't an easy road to the outright WBL title but the Bulldogs got it done with a powerful inside performance. Bihn, Homan, Greg Riemesch and Mitchell Ross took turns attacking the Titans' post players while combining for 47 points and 32 rebounds.
Ottawa-Glandorf head coach Josh Leslie certainly noticed the damage that Celina's post players were dishing out.
"Their (Celina's) shot chart must look like the lane got shot out of it," said Leslie about the location of the Bulldogs' shot attempts. "They killed us on the glass and they killed us in the lane. Bihn and Homan especially killed us inside and on the glass."
Celina charged in front of O-G by hitting a trio of three-pointers in the first quarter but the Bulldogs never connected again from long range the rest of the game.
"We take away their inside game in the first quarter and they make every frickin jump shot," said Leslie. "They scored all of their points in the first quarter it seemed on jump shots. Then we try to take away their jump shots and they pepper us in the lane. I guess it's pick your poison."
The Bulldogs' strategy for the final three quarters of the game was all about locating the mismatch in the post and exploiting it.
"With us having so many guys that can score in the post, it allows us to try and find the mismatch on the court," said Homan. "Whether it was me, or Nate, or Greg...we just tried to find a mismatch and feed that person the ball. I think that's one of our team strengths and it worked to our advantage tonight."
Celina led by as many as 13 points early in the second quarter but O-G rallied in a big way. The Titans' Travis Schomaeker scored 10 points to lead an 18-4 run over the last six minutes of the second quarter that put O-G on top 35-32 at halftime.
The score was tied at 44-44 with 45 seconds to play in the third quarter when Bihn got loose for four points and then Homan hit a pair of free throws to help give Celina a 50-47 advantage with one quarter left to play.
Celina pushed its lead to as many as nine in the fourth quarter but had trouble closing out the win. Schomaeker buried a pair of three-pointers and Andrew Trenkamp scored two to leave the Titans down 62-59 with 1:39 remaining in the game.
A pair of ill-advised shots by Celina gave O-G several chances down the stretch, but the Titans were unable cash in on any of them.
Schomaeker, who finished with a game-high 25 points, missed an open three-pointer with 52 seconds on the clock and then misfired on a turnaround jumper in the lane with 18 seconds left in the game.
Celina left the door open for O-G down the stretch when Kahl Knapke missed the front end of a one-and-one situation with 18 ticks on the clock.
O-G put the ball in the hands of Schomaeker on the next possession and Bihn used his quick hands to make a great defensive play and force a jump ball with only 6.8 seconds remaining in the game.
The Titans got a great look at the potential game-tying three-pointer with about four seconds left in the game but T.J. Metzger's long-range bomb was just off the back of the rim with Bihn chasing down the rebound as time expired.
"I don't think any of us feel that this was our best game of the year, but it sure feels good to win it and get the WBL title outright," said Riemesch.

WBL Standings:
WBL Overall
Celina 8-1 17-3
Defiance 7-2 16-4
Van Wert 6-3 16-3
Ottawa-Glandorf 6-3 12-8
Elida 5-4 12-8
Kenton 3-5 12-7
St. Marys 3-5 9-10
Bath 3-6 8-12
Shawnee 2-7 6-13
Wapakoneta 1-8 5-15

WBL titles:
The Celina boys' basketball program leads the Western Buckeye League with 16 all-time titles. The Bulldogs have won 10 outright WBL championships and have been co-champions on six other occasions.