Tuesday, March 27th, 2012
Bulldogs rally in seventh inning
By Gary R. Rasberry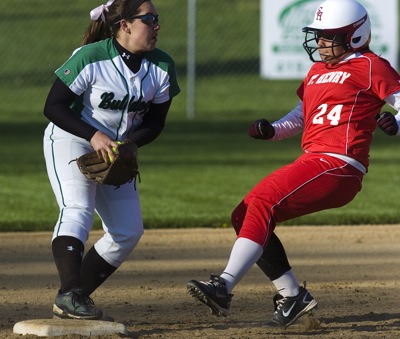 CELINA - Three straight hits with one out in the bottom of the seventh allowed Celina to open the high school softball season with a 6-5 come-from-behind win over St. Henry on Monday at Bill Feth Diamond at Eastview Park.
In the bottom of the seventh, Celina's Kassandra Williams, 0-for-2 in the game to that point, reached base on a one-out infield single to start the rally. Kylee Bader followed with a double that scored the speedy Williams all the way from first to tie the game at 5-5. Kaity Kuhn then closed the door for Celina on the next pitch, singling to right to score Bader for the game-winning run.
"The interesting thing about Kassandra is she came up and we debated whether we should put a pinch-hitter in for her because she struggled so much with the slow pitch," said Celina's head coach Nicole Driggs. "She asked if she could put a bunt down from the left side, and I said 'No, they're playing you (to bunt) and got you last time on a beautiful bunt. I asked 'Do you want a pinch-hitter or do you want this?' She said, 'I want this.' When I see that in their eyes, that gives me confidence.
"She did it, then you have Kylee and Katie Kuhn to close the deal for us."
"Their hitters came through when they had do," said St. Henry's head coach Melissa Starkey. "They got two big hits back-to-back after getting the second runner on. Good teams (and) good hitters are going to do that. That's what they did."
The Bulldogs opened the game with four runs in the bottom of the first and then were shut down for the next five innings. The Redskins scored two in the third and three in the fifth to take the lead going into the final inning.
After Celina's four-run outburst in the first off St. Henry's starting pitcher Paige Muhlenkamp, Starkey called on freshman hurler Elizabeth Uhlenhake to try and keep Celina from adding to its lead.
Uhlenhake did exactly that, holding Celina to two hits over the next five innings.
"She came in and controlled the ball well," said Starkey of Uhlenhake. "She's an off-speed pitcher, anyway, and she was able to put the ball into places where it was tough for batters to catch up to. She did a really nice job. Defense played well behind her. She shut down a good hitting team."
"Coach Starkey did an excellent job with her pitching selection. We struggled with (Uhlenhake)," said Driggs. "Basically, we had to time her up, and we were struggling with that. Smart coaching move on her part."
With Celina held at bay, St. Henry found success against Bulldogs' pitcher Katie Kerr. The Redskins scored two runs in the third on a two-run single by Maria Stammen that scored Kinzie Kessen and Ashley Heitkamp.
In the fifth, a hiccup by Celina's defense helped the Redskins grab the lead. Heitkamp led off with a triple and Sarah Moeder walked to put runners on the corners for Stammen.
Stammen chopped one in front of the plate, with Heitkamp scoring on the throw to first to make it 5-3. Michelle Bruns followed with a grounder to third that was booted, allowing Moeder to score and tie the game. After Bruns went to second on a throwing error on an errant pickoff try, Rachel Lefeld singled to center to break the tie as Bruns came home to make it 5-4.
Stammen drove in three runs with her two hits for St. Henry while Heitkamp added two hits.
Katie Kuhn went 3-for-4 for Celina while Kerr was 2-for-3 with two RBI.
Celina travels to Minster today while St. Henry is off until Thursday when the Redskins open the home schedule against Shawnee.