Wednesday, May 2nd, 2012
Plans progress for facility
Officials of proposed U.S. 127 fertilizer plant talk with neighbors, state
By Nancy Allen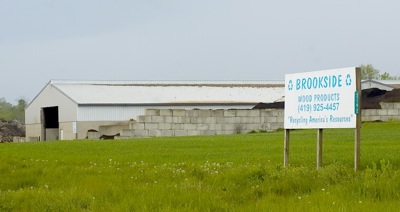 CARTHAGENA - Plans are ongoing for a company that wants to build an $11 million plant along U.S. 127 that makes organic fertilizer from livestock manure.
Officials with Amiran Technologies recently met with neighbors and talked to state officials about plans for the 25,000-square-foot facility to be built near the intersection of state Route 119 on land owned by Brookside Wood Products.
"We are in the detail phase with ODOT to make sure we are working closely with them on a traffic flow plan," Amiran spokesperson Paul Chadwick said Monday. "We also met Friday with several neighbors and nearby business owners who had previously expressed concerns about odor."
Amiran officials showed neighbors samples of an odor control chemical that would be used on the manure and the finished fertilizer product made from swine waste. The facility, to be called AG Conversions Ohio LLC, would have a covered manure pit, and the chemical would be made available to farmers to treat the waste before it comes to the plant, neighbors were told.
Patrick Moeller, who lives on Olding Road north of the site, said he initially had concerns about odor but feels better about the plant after attending the meeting.
"They seemed really sincere, and any questions we had they answered them," Moeller said. "It sounds like they're gonna keep it real clean and put a dome over the pit and unload the trucks inside a building ... If it works, it's going to be awesome, but we won't know unless they try."
Mike Niekamp, owner of Niekamp Farm and Flea Market north of the site, also attended the meeting.
"If these guys are as good of neighbors as I got now, then I don't see a problem," Niekamp said. "They promise us no odor problem."
Company and local officials tout the plan as a way to rid the area of excess animal waste and help restore Grand Lake. The 13,500-acre lake has suffered phosphorous-fed toxic algae blooms and water advisories the last three summers and lost millions in tourism. Local officials have been working with the company since July.
As soon as permitting work is done, likely this month or next, officials expect to start converting an existing building at the site into a preliminary production facility to make 50,000 tons of fertilizer yet this year, Chadwick said.
The plant would use hog, dairy and poultry manure to make custom-blended, organic dry and liquid fertilizer. Running at capacity, the plant would need 350,000 tons of liquid manure per year to produce 590,000 tons of dry, granular fertilizer per year. The amount of liquid fertilizer produced would depend on demand, Chadwick said, adding the plant would probably make the dry form most. The conversion process would produce no wastewater.
Chadwick said financing is not completely done but "moving in the right direction." Some partners need more time to put in their initial influx of cash, he said. The company was approved for a state tax credit in March.
The company expects to hire 60 employees in management, supervising, chemistry, research and development, quality assurance, accounting, IT, logistics and driving with an average salary of $57,000 and annual payroll of $3.4 million. Another 180 indirect jobs, mostly in transportation and warehousing, are expected to follow.
The company has received some resumes and has talked with people interested in jobs but has not hired anyone, Chadwick said.
Two local spinoff businesses - Ag Trans LLC and Innovative Ag Nutrients LLC - have formed. Ag Trans would pick up manure from farms and deliver it to the plant, and Innovative Ag Nutrients would sell and distribute fertilizer. Ag Trans would handle any payments to farmers for their manure.
Amiran officials in the future also want to build a plant that turns sediment dredged from the lake into potting soil.
Jared Ebbing, economic development director for Mercer County, said projects such as AG Conversions require a lot of legwork and usually end up taking longer than expected.
Company officials originally hoped to start hiring in April and begin construction in April or May.
"It just takes time, and it's nobody's fault," Ebbing said. "It takes a lot of planning, study and design."