Wednesday, May 30th, 2012
6 months of keeping faith
Grube family prays, hopes for resolution in double murder
By Margie Wuebker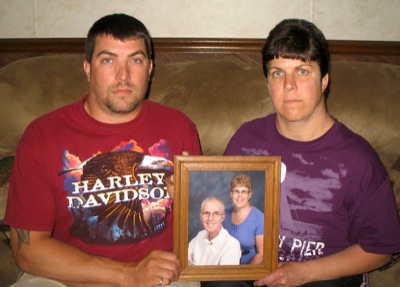 FORT RECOVERY - The past six months seem like an eternity for the Grube family of Fort Recovery. They have been clinging to prayer, community support and hope since the murder of two of their family members.
The case remains unsolved of who shot to death Robert "Bob" Grube and his daughter Colleen in the home they shared on Burrville Road on Nov. 30.
Adrian Grube, the family spokesman and only son, describes his father as a man of faith.
"Dad would expect us to remain strong and faithful," he said in an interview this week. "He would be disappointed if we did anything else."
Adrian speaks weekly with Mercer County Sheriff Jeff Grey or Deputy Doug Timmerman, the lead investigator on the case, and then shares updates with his four sisters.
"We pray for the detectives that God leads them in the right direction," he added. "We want the people responsible caught before they do something like this again. We do not want another family to go through such pain."
Adrian's sister, Michelle Stammen, remembers happier times when their father worked at Fort Recovery Industries and later at Cheryl Ann Programs.
"Dad had a wonderful sense of humor," she said displaying a framed photograph of Bob Grube in his younger days swinging in a tree like a monkey. "He certainly liked to clown around."
Colleen Grube, Bob's oldest child, previously worked as a nanny in New Jersey. She moved home in 2001 while recovering from a stroke suffered the previous year.
Their roles changed when Bob Grube, a U.S. Navy veteran of the Vietnam Era, suffered a stroke in 2005. More strokes occurred in following years with the last leaving him weakened and in need of a wheelchair.
"Dad took care of Colleen, and then their roles changed," Michelle said. His wife and their mother (Alice Walk Grube) died of a heart attack in 1998.
Colleen adored her 12 nieces and nephews ranging in age from 4 to 18 and enjoyed collecting piglet figurines. Both are reflected on her simple gravestone at St. Joe Cemetery.
Michelle wiped her eyes recalling the night Colleen showed up on her doorstep grinning from ear to ear and carefully holding a child's tea set. It was just two days before her death.
"Colleen knew what Alivia (Adrian's daughter) wanted for Christmas, and she found the last one at the store for me," the younger sister said. "I will never forget her joy or the sound of her laughter."
The "bad things" that occurred make them shutter, and they wonder about the "soul-less people" who came into their father's home. The room where the shots were fired and the rooms that were searched all contained at least one religious statue. Thoughts of who died first and who had to watch surface frequently, but grieving family members take comfort knowing God was there with them in the final minutes.
"Dad and Colleen were such giving people - they would give you the shirts off their backs," Adrian said struggling for composure. "They were defenseless and they died giving absolutely everything they had to give. It makes no sense."
The outpouring of support, including an anonymous donation that covered the cost of both funerals, has been overwhelming.
"We consider it a sign that good really does triumph over evil," Michelle said.
As the investigation continues, the Grubes are picking up the pieces. They are pleased the house will remain in the Grube name after more than nine decades.
Bob lived there 38 years and invested a lot of time and effort into making everything look nice. His grandfather, Frank Grube, was the first family member to live at the home and now a cousin has purchased it.
The Grubes are preparing for a June 23 auction, sorting through treasured belongings like a wooden cigar store Indian and Precious Moments figurines.
They say going in and out of the house is not as difficult as one might expect, although they still expect to hear their father and sister calling out a welcome. The sorting sessions have brought tears and laughter.
"One day of hell is not going to ruin a lifetime of love and good memories," Adrian said. "At this point, the only consolation we have is knowing Dad and Colleen are together in heaven."