Saturday, February 15th, 2014
Flyers improving as offense gets stronger
By Gary R. Rasberry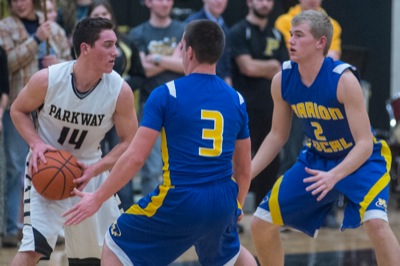 ROCKFORD - Marion Local's season-best offensive effort was more than enough for the Flyers to pick up a 75-53 Midwest Athletic Conference win over Parkway on Friday night at Panther Gymnasium in Rockford.
The Flyers improve to 15-4 overall and, more importantly, are now tied for first place in the MAC with a record of 7-1 after Fort Recovery's loss to St. Henry. The Flyers and Indians meet at The Hangar next Friday to determine the MAC championship.
Marion Local's previous high for points in a game came with a 65-point effort against Coldwater on Tuesday.
"They've got a good team. You can't take anything away from them," said Panthers coach Rick Hickman of the Flyers. "They were ranked number one in the state early in the season for a reason. They have all the tools."
Marion Local actually had to kickstart their offense as the Panthers (4-16, 0-8 MAC) were able to contain Luke Knapke and Ryan Bruns in the post, with Bruns hampered with two quick fouls.
The solution? Send the 6-10 Knapke and 6-6 Adam Bertke to the perimeter. Bertke hit two three-pointers in the first quarter and Knapke added another that helped the Flyers take a 19-10 lead at the end of the first quarter.
The strong start on the perimeter allowed Marion Local to start working the ball inside more and the Flyers started connecting with regularity. Marion Local shot 63 percent (29-of-46) from the field, with a blistering 15-of-22 clip in the second half as the Flyers pulled away.
"We've definitely improved offensively the last 3-4 games," said Flyers coach Kurt Goettemoeller. "(Tuesday) at Coldwater, tonight, and even last weekend, we're starting to make shots. That's a good sign for this outfit. With our size inside, if we make shots, we're going to be difficult to defend.
"We're getting confident on the perimeter," continued Goettemoeller, whose team was 6-of-13 from behind the three-point line. "Adam hits some shots from the perimeter early. ... Luke hit a big three early in the game. That just gets the ball rolling."
"We would try and make a run, and they would come right back at us," said Hickman. "We weren't getting a hand on them. They would come right back at us."
Parkway tried to hang with the Flyers with some success from outside the three-point arc. The Panthers hit 7-of-19 from long range, including Tanner Bates' 4-of-10 that helped him lead Parkway with 17 points.
"We've got him believing he can be a shooter and score this year," said Hickman of Bates. "Last year, he only averaged 3-4 (points) per game."
The defense was about the only part of the Flyers' game that Goettemoeller could find fault with.
"We definitely need to shore things up defensively," said Goettemoeller. "I wasn't overly pleased how we played defense tonight. We've got to become a more sound basketball team if we want to compete with Fort Recovery next Friday and into the tournament. If we don't get sound, it will be difficult to keep winning."
Marion Local finally put Parkway to rest in the third quarter as Knapke dominated the inside, scoring 11 of his game-high 26 points in the quarter before getting a rest for most of the final eight minutes. Knapke also pulled down 11 rebounds.
Bertke was 5-of-6 from the floor en route to 13 points, while Cole Griesdorn finished with 11 points, making all five of his shots.
In addition to Bates' big game, senior Brant Brana celebrated senior night with 12 points, including a dunk late in the game, to go with eight rebounds. Brody Adams and Matt Heindel each added eight points.
Marion Local starts a season-ending, three-game homestand tonight, hosting the Russia Raiders before taking on Fort Recovery next Friday and Shawnee next Saturday.
Parkway travels to Lincolnview tonight before wrapping up the regular season next Friday at Delphos St. John's.