Saturday, December 13th, 2014
Mikesell has big night in Redskins' victory
By Colin Foster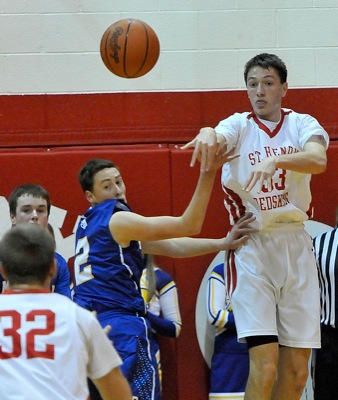 ST. HENRY - St. Henry tried to pull away from St. Marys in the first half. It didn't work.
The Redskins had no issues with that in the second half.
Trailing the Roughriders 32-30 midway through the third quarter, St. Henry went on an 11-1 run to close the quarter and pulled away in the final period for a 55-39 victory at Redskin Gymnasium.
St. Henry outscored St. Marys 27-14 in the final half. Ryan Mikesell had 31 points, snatched 15 boards (five offensive) and added a couple no-look dimes in the second half. The Redskins out-rebounded the 'Riders 36-21 and almost completely eliminated St. Marys' low-post game.
"Coach (Chad) Cramer did an excellent job," St. Henry coach Eric Rosenbeck said. "He got the guys who maybe weren't in the same spots they were used to being in to try to understand what St. Marys was trying to do. They had a nice game plan, which allowed them to get some wide open threes and they converted in the first half.
"We did a little bit of a better job contesting and the ball didn't go in the hole for them a few times, which we'll take."
The Roughriders started the game 4-for-4 from the field and took a 10-6 lead on three-pointers by Derek Jay and Josh Young. But Mikesell closed the quarter with seven points to put his team in front 15-12 by the end.
Mikesell's step-back jumper from beyond the arc put St. Henry in front 23-15 with five minutes to go in the second. Just when the Redskins appeared poised to pull away, however, St. Marys countered with a 10-2 run. Two buckets in a row by Isaac Fitzgerald - one a three-pointer off an assist by Nathan Wilker - started the spurt. Young's triple capped the run and tied the score at 25-all. Another three by Mikesell put the Red and White in front by three at half.
Jay's three-pointer knotted the score early in the third and a pair of free throws by Quinn Zaerr gave St. Marys its first lead since it was 12-10 in the opening quarter. Three ties and three lead changes occurred in the first four minutes of the quarter until St. Henry went on its game-altering run to take a 41-33 advantage heading into the fourth.
Caleb Bender had a steal and a layup early and Mikesell followed with a no-look dish to put St. Henry in front by double digits. St. Marys got no closer than nine the rest of the way.
"We needed the guys to attack the basket more with the dribble without turning it over," St. Marys coach Dan Hegemier said. "They were tentative. We got the ball inside and we didn't score. We would just freeze up. We have to have somebody on our team take more of a leadership role and get it done.
"We stopped scoring and you can't stop scoring against a good team."
Paul Stammen was the second leading scorer for St. Henry with eight points. The Redskins also got good minutes from Bender (seven points) and Jesse Niekamp (six points, five rebounds).
"It was a great team win," Rosenbeck said. "Some guys really stepped up tonight. Jesse Niekamp had a very fine ballgame. He was excellent on the defensive end, played tough, physical basketball. Paul Stammen had a really, really nice solid game. He had a good floor game. He took care of the basketball overall pretty well. A.J. Niekamp had some huge rebounds. He might not have shot as well as he wanted, but we know he'll be fine. He's proven in practice he's a good shooter."
Jay paced St. Marys with 15 points. Fitzgerald went 4-for-8 from the floor and finished with 10 points. Young added nine points for the Roughriders (1-1), who travel to face New Bremen tonight.
The Redskins (2-1) return to the court tonight at home against Mississinawa Valley.