Wednesday, August 12th, 2015
Official criticizes state for algae advisory protocol
By Shelley Grieshop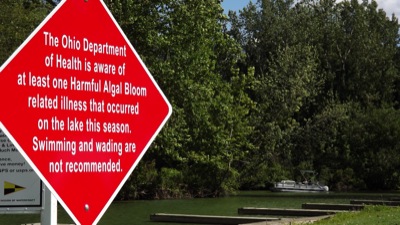 WAPAKONETA - The state needs to do a better job providing clear and timely information to the public about the risks of harmful algae in Grand Lake, according to a local health official.
"They need to get the information out more rapidly," Auglaize County Health Department Environmental Director Curt Anderson told board members Tuesday.
He said the agencies involved in Grand Lake's algae issues - Ohio Department of Health, Ohio Environmental Protection Agency and Ohio Department of Natural Resources, which owns the lake - need to communicate better with each other and the public.
Anderson referred to a newly created "elevated public health advisory" issued July 28 by ODH. The advisory prompted the posting of new, red signs near Grand Lake's beaches that warn visitors and pets to avoid swimming and wading in the lake due to high microcystin toxin levels and a probable cause of illness linked to the water.
ODH officials on July 29 told The Daily Standard the new advisory is very similar to EPA's "recreational no contact advisory" with a slight change in wording for "flexibility."
EPA uses a recreational public health advisory and the recreational no contact advisory to inform the public about harmful algal blooms in waterways. EPA on July 30 - two days after ODH's announcement - on its website posted "recreational no contact" advisories for Grand Lake's beaches.
A microcystin toxin reading of 6 parts per billion or higher triggers a recreational water advisory, according to EPA's protocol. Recreational no contact advisories are issued by EPA when microcystin toxin readings are 20 ppb or higher and there is at least one probable case of human illness or death due to algal blooms.
The recent illness related to Grand Lake involved a woman who had been riding a Jet Ski in the water on June 6 and developed a rash. A physician determined the rash likely was related to contact with the lake water.
Anderson told the board Tuesday he was disappointed to learn high microcystin toxin levels - 112 pbb - had already been detected in Grand Lake in May but state officials did not relay the information to him or publicly announce it until two weeks ago.
"It doesn't make sense to wait until you have a probable illness," Anderson said.
The most recent tests by EPA on July 30 show the highest reading on the lake at 99.6 ppb at Windy Point Beach.
Anderson said Ohio - unlike some other states - doesn't close beaches near waterways with harmful algal blooms. State officials prefer to provide information and let the public decide whether to risk contact with the water, he explained.
Anderson also noted a change in advice from the state regarding consumption of fish caught in Grand Lake. The public previously was told it was safe but officials now advise doing so "at your own risk," he said.
"It's significantly different than what we were told five years ago," he said.
The Ohio Division of Watercraft states on its website: "Should you decide to consume fish, you would do so at your own risk, and should remove intestines, fat and skin, consuming only the filet."
Health board member Dr. Dan Harpster asked which state agency has the highest authority regarding lake issues. Anderson said he didn't really know.
"It's above my pay grade," he added.
Harpster also asked what the local health department's role is in relation to the lake's woes. Anderson said it's the agency's responsibility to share information with the public.
Anderson said he'd like to see updated toxin level numbers posted on the lake's shores with information explaining what it means. He and county director of nursing Brenda Eiting stressed that toxin levels can be different from one area of the lake to another.
"That's a real difficulty with these warnings, as well," Anderson added.
Eiting spoke to the board about possible medical concerns related to exposure to toxic lake water and provided a handout with information.
"Have you given this information to (local) doctors and urgent cares?" county medical director Dr. Juan Torres asked.
Eiting said she informed area physicians but not urgent care facilities and vowed to do so.