Monday, August 17th, 2015
Bohn happy to win Classic
Lefeld Classic
By Gary R. Rasberry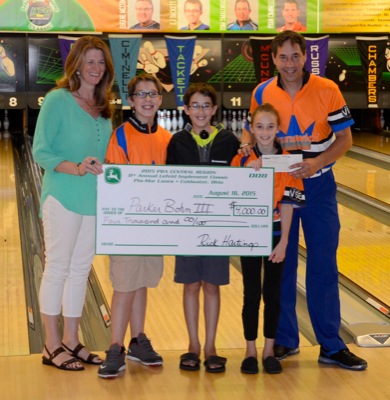 COLDWATER - Parker Bohn III has won 34 events on the national tour of the Professional Bowlers Association and was inducted into the PBA Hall of Fame in 2000.
But after winning the PBA Central/Midwest Region Lefeld Classic on Sunday at Pla-Mor Lanes, the New Jersey resident could not stop talking about the community of Coldwater.
"You know, this little town of Coldwater has a bigger heart than most cities," said Bohn, who beat Patrick Dombrowski 184-165 in the championship game. "When I say most cities, I don't mean most, I mean all cities. The people that open their arms, open their businesses for this event, starting with Pla-Mor and the Hartings family (owners of the center) to Lefeld Implement. It's people that make it an event, not just a tournament, an event.
"Every time we come to Coldwater, it's not your typical PBA event."
Bohn entered the four-bowler stepladder format as the top seed, allowing him to wait through two other matches as the other three seeds duked it out to make the final.
Dombrowski, who was in fifth place going into the final two rounds of round-robin play to decide the final four, rallied to make the final four, bumping 2009 Classic champ Chris Loschetter out of the finals.
In the first match against Mitch Beasley, Dombrowski held off Beasley 189-185 to advance and face second-seeded Chris Via, the 2013 Classic champ. Another close game was on tap before Dombrowski won 224-201 to advance to face Bohn.
Dombrowski struggled, recording an 8-1 open frame in the second and later adding a 7-1 open in the sixth. Bohn III had three strikes through his first four frames and built up a 20-plus pin lead even after leaving the seventh frame open with a 7-1. Bohn III sealed up the match with strikes in the eighth and ninth frames before rolling a four-pin split on his first roll in the 10th frame, settling for a 5-3 finish. Dombrowski spared the eighth and ninth frames and after getting a strike on his first roll in the 10th, rolled a seven and then a zero to close out.
The win allowed Bohn III to take home the $4,000 winner's check and a gas grill. The only thing he didn't take out of the bowling alley was the shirt off his back.
"(Rick Hartings) has an older shirt, a relic you might say, hanging up. The shirt I'm wearing today is going into his hands as soon as we're done talking," Bohn III said.
Several area bowlers earned money for making it to Sunday's semifinals. Wapakoneta's Anthony Kennard just missed the top eight that advanced to the final two games of the semifinals to earn $800. Former Coldwater High School bowlers Justin Franzer finished 14th to earn $700 and James Hennessey finished 23rd to earn $500.