Friday, September 25th, 2015
Panthers win first MAC match
By Gary R. Rasberry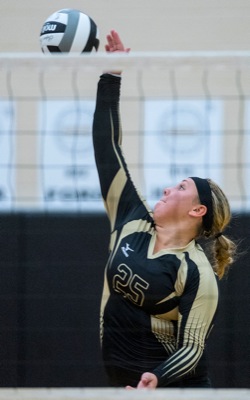 ROCKFORD - Not only were Fort Recovery and Parkway looking for their first Midwest Athletic Conference volleyball win of the season on Thursday, but the teams were also looking for a kickstart win for the rest of the regular season and postseason.
Neither team gave an inch, but it was Parkway who picked up the 25-23, 31-29, 25-23 win over the Indians at Panther Gymnasium in Rockford to move to 1-4 in the MAC and 10-7 overall.
"That's what I call a good high school match," Panthers coach Jeff Marbaugh said. "Both teams sold out (gave their all) to make the plays. They were diving and hustling. Just an exciting match to watch."
Parkway looked poised to dominate the first set after Alyx Slusher served up eight straight points to give the Panthers an 11-3 lead. Later, Slusher served the Panthers to a 21-13 lead, but the Indians came back with Kendra Siefring on the service line. The senior served up two aces and the Indians took advantage of several Panther hitting errors to tie the game at 21-21 before Kaylee Heindel stuffed a kill to the Indians' side of the court to give back the serve to Parkway. The Panthers went up 24-22 but a serve into the net gave the Indians a chance to tie the set, but they were stymied by a net serve that gave the first set to Parkway.
"We started the game flat. Even by our efforts in warmups, we knew it was coming," Fort Recovery coach Chelsea Rogers said. "Both teams were scrappy tonight. We've been struggling finishing games. I keep telling them once we find a way, we'll be all right."
After the teams traded points in the second set, Fort Recovery began to pull away thanks to good service runs by Maddie Grover, Kirsten Jutte and Morgan Lennartz. The Indians led 20-12 before Haley Hawk tallied a kill to give Parkway the serve.
Slusher's serving helped the Panthers chip away to get within 20-17. Fort Recovery made it 21-17, but Parkway came back to take a 22-21 lead thanks to solid serving from Mackenzie Sipe.
The teams traded ties for the next several rotations. Parkway had set point twice, only to have Fort Recovery force. A Siefring ace gave the Indians set point at 29-28, but Hawk knocked down a kill to tie the set again. Grace Swander tallied a kill to make it 30-29 and then Hawk closed out the set with a kill of her own to put the Panthers up 2-0.
"Both teams stayed aggressive," Marbaugh said. "Nobody backed off. That was a real important set."
"We had four missed serves alone in that set, which was a killer," Rogers said. "We'd gain momentum and lose it with a missed serve."
Fort Recovery led early in the third set, but Hawk served up six straight points, two coming on aces, to put Parkway up 10-7. The Indians worked to get closer and tied the set at 18-18 and 20-20 before Parkway worked the score to 24-21 and match point. The Indians refused to concede. A Siefring kill and a Parkway hitting error cut the score to 24-23, but the next serve went into the net ended the match.
"There wasn't a lead that really was safe," Marbaugh said. "We had a lead in the first and they came back. They had a lead in the second and we came back. Both sides gave an effort. They just went out and played. It was fun to coach."
Both teams are at home on Monday. Parkway hosts Lima Central Catholic and Fort Recovery hosts state-ranked Lehman.