Thursday, February 4th, 2016
Teachers offer input on state tests
By William Kincaid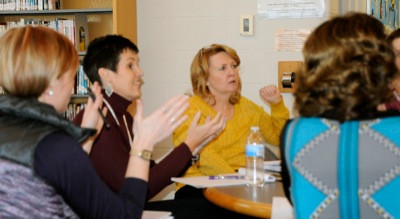 Mercer County teachers are helping to ensure questions on this spring's new state tests are developmentally appropriate and fair.
Amber Rose, Mercer County Educational Services Center director of curriculum, said their involvement is a plus for the area.
"We do have a voice in the way our kids are going to be measured," she told the newspaper recently. "We have a hand in saying, 'Yes, this is appropriate.' 'No, this is not appropriate.' And they were overwhelmingly positive in saying they feel 100 percent confident that the assessments are appropriate and do match the instructional activities they're doing within their classrooms."
The state last summer dropped the much-maligned Common Core-aligned Partnership for Assessment of Readiness for College and Careers assessments, which many believed took too long to administer, compromising valuable instruction time.
Districts this year will use the American Institutes of Research tests for third through 12th grades. The switch will drastically reduce the amount of time spent on standardized testing, according to the Ohio Department of Education.
"I don't think all the tests were as developmentally appropriate as they could have been, and the amount of time that kids were testing was unfortunate," Rose said. "Things are lot more streamlined this year.
Four area English and math teachers - Julia Sommer and Paula Hemmelgarn of Marion Local schools, Becky Link of Fort Recovery schools and Darlene Stammen of St. Henry schools - are serving on state content advisory committees.
They're among 320 educators tasked with selecting questions for 18 tests in English and math.
"These are Ohio teachers that vetted these questions and these are Ohio students taking these questions and ... the only students they'll be compared with are students in our state," Rose said.
The teachers, who agreed to a three-year stint on the committees, focus on tests in one subject area for a specific grade level, according to ODE.
"Anybody in education could apply to be on these committees, and I think they chose them based on their backgrounds," Rose said. "They wanted to have a diverse population and have various areas of the state represented."
Rose, who helps area teachers "improve their instruction to more closely align with some of the assessment pieces," said state commitee members met in September to review 300 questions that were field-tested last year. Members examined every facet of the tests, including questions, reading passages, graphs, charts, illustrations, vocabulary and layout.
They determined whether the proposed questions measured content standards, are suitable for subject area and grade level and are accurate. For instance, one commitee member rejected a math question because a right angle didn't have the right indicator.
"They said, 'We teach our kids every day: You cannot assume that something is a right angle or something is parallel if it doesn't have the marking,' " Rose said.
Committee members met again in Columbus in November to rewrite questions, ultimately determining the content of the math and English tests, Rose said.
"We're not trying to trick kids," Rose said of the committee's work. "We're trying to give them every opportunity to be successful and show what they know but also to assess them at various levels of rigor and be sure that the level of complexity within the test questions is varied."
The process is ongoing and committee members will convene again this summer to analyze a new round of questions, Rose said, noting the state will release 20 percent of the previous test questions for public review.
"So as questions are released, more questions have to be added," she said.
The local content advisory committee members met recently at St. Henry schools for a roundtable discussion of their respective committee's work. Also at that session was Tracy Obringer of Fort Recovery schools, who serves on the state's standard and assessment review commitee that is ranking English test items in relation to community values and state standards.
They believe this year's test items are more appropriate in length and difficulty, more student-friendly and easier to understand.
Since beginning her job with the ESC in August, Rose believes many local teachers feel better about this year's AIR test compared to last year's PARCC assessment.
"For the most part, they feel things are definitely moving in the right direction," she said. "I think they feel a lot more comfortable knowing that these tests are now constructed here within the state of Ohio and we have a local voice."
The shorter testing periods also received praise, she said.
"I am not at all a proponent of repeated practice tests," she explained.
The AIR language arts test can be administered from April 4-29 online or April 4-22 for paper tests. The math, science and social studies tests may be administered from April 4-May 13 online or April 4-May 6 on paper.
Fourth- and fifth-grade language arts tests have been cut from 300 minutes to 180 minutes and third- through fifth-grade math tests were cut in half from 300 minutes to 150 minutes. Sixth- through 12th-grade language arts tests will be reduced from 345 minutes to 210 minutes. Sixth- through eighth-math testing has been reduced from 300 minutes to 180 minutes. The time for high school math testing is down 44 percent from 320 minutes to 180 minutes.
The only subject requiring more test time is third-grade language arts, with an hour increase over the PARCC test for the reading assessment, ODE spokesman Toby Linkly said.
Assessments are broken into two sessions, which can be administered in one long session or split between two days.