Friday, September 23rd, 2016
Effort underway to aid residents with mental health issues
By Jared Mauch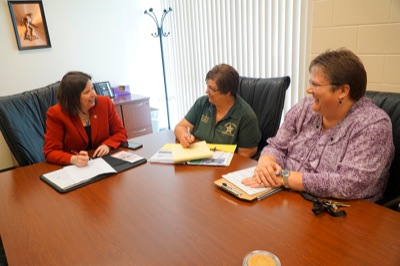 CELINA - Mercer County officials are stepping up efforts to help residents suffering from mental health problems.
Amy Ikerd, assistant prosecuting attorney; Jodie Lange, Mercer County Sheriff's Office chief corrections officer; and Roberta Donovan, licensed independent social worker from Foundations Behavioral Health Services; spoke on Thursday to the newspaper about ways county officials plan to help.
Officials are considering an eight-hour program for bailiffs, teachers and anyone who deals with the public to learn the crisis signs of someone struggling with mental health issues, Ikerd said.
Talks about the program have been underway for about a week and final plans are not set, she said.
Ikerd and Lange are attending a criminal justice and mental illness summit in Columbus today to learn more about free resources the county can use to help people.
"The goal here is not to spend more money," Ikerd said. "We're trying to do more with less in the most efficient and evidence-based way possible."
One goal is to send convicted offenders struggling with mental illness to appropriate therapies and programs rather than jailing them, if the circumstances are appropriate.
The Mercer County jail sees its fair share of inmates who have mental illnesses, Lange said. They tend to come in more often and stay longer than any other inmates.
"The goal is by 2020 to have lowered the number of people that are in the jail simply for mental health reasons by a third," Ikerd said.
It's a lofty goal and one that federal government officials also would like to see take effect across the country, she said.
Ensuring a person receives medication as soon as possible after release can also help the transition process, Donovan said. The jail's doctor can treat people, but they may not know where to seek help when they are released.
Ikerd and Donovan agreed community support is a big asset in helping people with mental conditions.
"We may not have the resources of Franklin County, but Mercer County is blessed with a wonderful community that cares about people," Ikerd said. "That's a wonderful resource that will help us with this project."
County officials have been working to create support systems since an Aug. 22 meeting with retired Ohio Supreme Court Justice Evelyn Lundberg Stratton and Thom Craig, mental health program director for Margaret Clark Morgan Foundation.
Stratton and Craig told about 40 officials at a recent Stepping Up Initiative meeting to highlight free resources, ranging from a veterans justice outreach service and an online benefit bank that lists benefits people in poverty can use.
Mercer County is one of 29 in the state participating in Stepping Up, according to the Ohio Mental Health and Addiction Services.
The Mercer County Sheriff's Office last week conducted crisis intervention team training for employees of Mercer and Van Wert sheriffs' offices.
The training included a ride-along with mental health caseworkers and role-playing responding to calls involving someone with mental health problems.
"I think it's a very good program. It helps to de-escalate things. It can be used in the jail or with deputies out on the road," Lange said.
A corrections officer can't always identify people with mental illnesses because they might have been arrested under the influence of drugs, Donovan said.
The relationship between mental health problems and drug addiction is interwoven, she added.
"A lot of times they may be at the age when they start to have mental health problems but they're also starting to experiment with drugs," Donovan said. "If there is that addiction piece there, it's hard to know."
The women stressed that changes won't happen overnight.
"It doesn't do any good if we have $10,000 and use it this year," Ikerd said. "So we fix the problem this year and then we're back to square one next year. The goal is to put a safety net using current resources or sustainable resources in place."
Ensuring people have a good support system when they leave jail is also a concern, The officials said. They want to make sure people have transportation from the jail and proper clothing so they aren't at more of a loss.