Monday, May 22nd, 2017
Local athletes earn regional berths
Minster sweeps district titles
By Colin Foster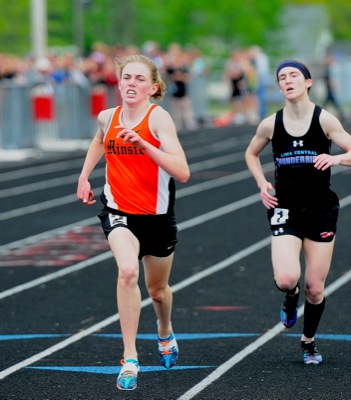 SPENCERVILLE - The Minster girls track and field team won their umpteenth Division III district title on Saturday. That wasn't surprising.
The Wildcat boys winning the title ... Well, that was a little surprising.
Minster swept the district team titles for an eighth consecutive year on a rainy day turned sunny in Spencerville. The meet was on hold for 1 hour and 45 minutes after a storm swept through at 2 p.m. and finished up just after 5 p.m.
The Orange and Black won the girls' meet with 148 points. New Bremen was team runner-up in girls (79 points), Ottoville was third (62), Parkway fourth (54), Spencerville fifth (53) and Coldwater sixth (47 1/2).
"Overall, I'm just really pleased to see a lot of people advance," Minster girls coach Jessie Magoto said. "They've been working hard and they're super appreciative and thankful for the opportunity to get to compete."
The Minster boys also won convincingly with a score of 103 points. St. Henry finished runner-up with 69 points. Parkway was third (681/2 points), Spencerville fourth (671/2) and Marion Local fifth (61).
"I mentioned to you guys earlier in the season that we were trying to rebuild and trying to figure out what we had," Minster coach Larry Topp said. "So if you would have told me at the beginning of the season that we'd win districts, I'd have said there's absolutely no way.
"I'm very pleased with our performances," he added. "There were a lot of PRs out there today and also on Thursday. That's what it's all about. It's that time of year when you want times to drop."

GIRLS
1,600-meter run
Minster freshman Emma Watcke won the 1,600 and set a new record in the process. Both she and Lima Central Catholic's Emily Sreenan broke the mark of 5:10.34 that had been held by Spencerville's Angela Homan since 2001. Watcke ran a time of 5:07.44 to hold off Sreenan, who completed the course in a time of 5:08.43.
Two other locals qualified in the event. Minster's Kaitlynn Albers (5:19.77) and New Bremen's Bailey Bronkema (5:26.68) finished third and fourth respectively.
3,200 Run
Watcke and Sreenan again battled in the 3,200. This time, Sreenan won with a time of 11:32.50. Watcke was second (11:39.42). Also moving on in the event are Fort Recovery's Chloe Will, who placed third (11:53.13) and New Bremen's Bronkema, who placed fourth (11:54.05).
800 Run
Minster's Madeline Magoto and Cassie Francis went 1-2 in the 800. Magoto won with a time of 2:20.00. Francis - who in 2015 set the district record in a time of 2:17.28 - placed second with a 2:21.99. St. Henry's Breanna Schulze will be joining them in Troy after a third-place result (2:23.80).
100 Hurdles
Parkway's Clista Hellwarth is moving on in the 100 hurdles after a third-place finish (15.69 seconds).
300 Hurdles
Coldwater's Savannah Seibert inched a step closer to a return trip to state with a second-place finish (45.99 seconds). New Bremen's Julia Goettemoeller and Marion Local's Kylie Albers also advanced. Goettemoeller was third (47.26) and Albers fourth (47.93).
100 Dash
New Bremen freshman Macy Puthoff and Marion Local's Natalie Rethman each earned a trip to the regional meet. Puthoff was runner-up (12.97 seconds) and Rethman fourth (13.33).
400 Dash
Parkway's Sydney Crouch won the title in the 400 with a time of 1:00.80, avenging a loss to New Bremen's Paige Jones at last week's MAC meet. Jones, who placed second (1:01.03), is also moving on and so is Coldwater's Lauren Gilliland, who placed third (1:01.66).
200 Dash
Crouch also earned a regional berth in the 200 with a second-place finish (27.03 seconds). Minster's Paige Thobe also secured a spot by placing fourth (27.40).
4x200 Relay
Minster's group of Thobe, Courtney Prenger, Jordyn Heitbrink and Francis won the 4x200 relay with a mark of 1:49.25. Two other area teams qualified in the event. Marion Local's team of Rethman, Brooke Homan, Jessie Kramer and Kylie Albers earned a runner-up finish (1:49.62) and New Bremen's combo of Puthoff, Jane Homan, Julia Goettemoeller and Jones placed fourth (1:50.30).
4x100 Relay
Thobe, Leah Brandewie, Jessica Falk and Heitbrink teamed for a runner-up finish for Minster in the 4x100 (51.79 seconds). Parkway's group of Hellwarth, Ansley Burtch, Rachel Barrett and Crouch also secured a spot in Troy by placing third (51.85).
4x400 Relay
Francis, Courtney Prenger, Lillian Hirschfeld and Magoto gave Minster another first-place finish with a time of 4:08.34. New Bremen's team of Puthoff, Goettemoeller, Rachel Kremer and Jones placed third (4:13.28) and Coldwater's group of Gilliland, Kourtney Diller, Alexis Stammen and Seibert was fourth (4:15.79).
Long Jump
Minster's Thobe broke her personal best jump by five inches, hitting 17-3 1/4 to win the long jump. She'll be joined at regional by three other athletes in the event. Crouch took runner-up honors for Parkway (16-9), Puthoff earned third for New Bremen (16-6 1/4) and Kramer was fourth for Marion (15-9 1/2).
Shot Put
Minster's Savanah Luthman captured another shot put title with a winning throw of 36-10 1/4. New Bremen's Maddy Moeller - who qualified for state last season alongside Luthman - advanced to regional in third (36-1).
Pole Vault
New Bremen's Celeste Kuck is marching on in the pole vault after topping out at 10-4 for a runner-up finish. Coldwater's Jessica Break and Minster's Grace Butler also qualified. Break was third (9-6) and Butler fourth (9-0).

BOYS
1,600 Run
Fort Recovery's Travis Sutter, Minster's Andrew Broering and Marion Local's Matt Tangeman all qualified for regional in the 1,600. Sutter was runner-up in a time of 4:38.08, Broering placed third (4:45.03) and Tangeman fourth (4:46.25). Ottoville's Brendan Siefker set a new meet record to win in a time of 4:23.91. The previous record had been held by Lincolnview's Bayley Tow, who ran a 4:24.98 in 2014.
3,200 Run
Two area boys qualified in the 3,200. Parkway's Ben Schlemmer placed third (10:12.95) and Minster's Luke Barga was fourth (10:16).
800 Run
St. Henry's Devin Huelskamp qualified with a fourth-place finish. The junior completed the event in a time of 2:02.83.
110 Hurdles
Minster's Zach Heuker and St. Henry's Justin Rose both qualified in the 110 hurdles. Heuker was second (15.50 seconds) and Rose third (16.71). Those two also advanced in the 300 hurdles. Heuker was again second (42.11 seconds) and Rose third (42.39). Parkway's Raymond Wood will be joining them in Troy after finishing fourth (43.02).
100 Dash
Fort Recovery sophomore Robby LeFevre - a state qualifier last season - qualified in both the 100 and 200. He posted an 11.31 time in the 100 for a runner-up finish and later won the 200 (22.99 seconds).
Minster senior Alex Blanco also reached the regional meet in the 100 with a fourth-place finish (11.73 seconds).
400 Dash
Marion Local's John Tangeman, Parkway's Reid Etzcorn and St. Henry's Collin Mescher all secured regional trips in the 400. Tangeman was runner-up (52.10 seconds), Etzcorn finished third (52.82) and Mescher fourth (52.97).
4x200 Relay
St. Henry's group of Noah Pearcy, Kevin Meier, Zach Ontrop and Mescher punched a ticket to regional with a fourth-place finish (1:34.57).
4x100 Relay
Fort Recovery's Riley Pearson, Jacob Acheson, Brayden Schoen and LeFevre placed fourth (45.39 seconds) to secure a spot at the regional meet.
4x400 Relay
Three area teams are moving on in the 4x400. Parkway's group of Ryan Hesse, Andrew Baker, Caleb Rollins and Etzcorn was runner-up (3:39.95). New Bremen's Michael Kelly, Brandon Heitkamp, Avery Powers and Jake Hemmelgarn placed third (3:40.17) while Marion's bunch of Caleb Bruns, Cody Pohlman, Austin Wendel and Tangeman took the fourth and final spot (3:40.56).
Discus
Marion Local's John Dirksen - a first-year thrower - was the meet champion in the discus with a heave of 147-1.
The Minster duo of Max Prenger and Tony Winner are also moving on. Prenger took runner-up honors (142-11) and Winner was third (138-6).
High Jump
Hemmelgarn won the meet title for New Bremen in the high jump (6-0). Minster had two people qualify. Ethan Smith cleared 5-10 for runner-up honors and Joseph Winner was fourth (5-6).