Thursday, June 22nd, 2017
Tri Star plans unveiled
Completion set for 2019
By Tom Stankard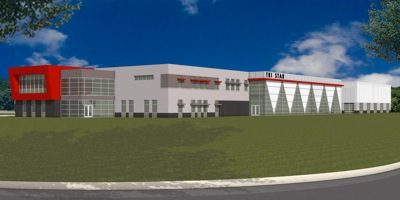 CELINA - Plans for the Tri Star 2.0 project were revealed Wednesday before more than 50 people at Celina High School.
When Tri Star Career Compact was launched in 1983, the organizers' goal was and still is "to put excitement back in education," director Tim Buschur told the crowd. Now officials hope to enhance that goal with the planned $25 million, 100,000-square-foot, two-story facility. They hope to break ground for the project in mid-September and expect a completion date of June 1, 2019.
"Students deserve it. Companies deserve it. The community deserves it," he said.
Architects from Fanning-Howey Associates in Celina will design the facility, which will be located across the street from Wright State University-Lake Campus. Project executive Brad Bubp presented the plans at Wednesday's event.
While they were designing the building, Bubp said Buschur told architects not to make it look like a typical school. With that, he said the complex was designed to resemble a corporate headquarters. It features multiple types of materials, mainly metal and glass, to give it a modern look, he pointed out.
"The building itself is a teaching tool," he said. "You're going to see a lot of exposed structure so the construction class can really get a feel for their profession just by walking around."
As drivers pull in, he wanted them to be "wowed" by the main entryway, Bubp said. The student commons area will be located just inside the entrance.
Next to the commons will be classrooms for hospitality and tourism; graphics; robotics, electronic and computer technologies; and precision machining. Down a hallway will be labs for engineering technology, welding, network systems, construction, veterinarian technology, agriculture mechanics and auto technology.
The second floor will feature two medical prep labs and rooms for early childhood education, interactive media and health-information technology.
Bubp said the early childhood education room was designed to resemble a kindergarten classroom. The medical prep labs include hospital rooms and beds. These two labs should better prepare students for the real world.
Fanning-Howey designers collaborated with teachers from Tri Star's nine participating districts to lay out the classrooms, Bubp pointed out.
"Flexibility was key," he said.
Rather than using smartboards, teachers will use 70-inch touch screens that can be moved anywhere in the classroom. Laptop charging stations and plenty of storage also will be included, Bubp added.
Buschur said the added space will allow additional adult and company training to be held on site. Mercer County Community Development Director Jared Ebbing said the facility will serve the entire community.
"This is more than just for juniors and seniors in our two counties," he said. "The facility can be used for adult education and also for the younger kids. This is a community learning center."
Ideas for the facility started when county superintendents joked about moving to one location, Buschur said. Talk quickly became reality when area voters approved a 15-year, 0.95-mill bond levy to construct the "state-of-the-art" facility on 15 acres near Lake Campus. Buschur thanked then-state Sen. Keith Faber, R-Celina, for his help with the legislation that allowed compact officials to seek the levy.
The new building will house the career compact's 15 existing programs, which are spread across six "worn-out" facilities, Buschur explained. Tri Star's nine districts include Coldwater, Celina, St. Marys, New Bremen, Fort Recovery, Marion Local, Minster, St. Henry and New Knoxville. These districts have developed a curriculum for juniors and seniors with an interest in a career in a technical field, Buschur said.
With the new location, Buschur said bus routes will be simplified and space will be available for more programs.
Additional programs include network support, hospitality and tourism and an additional medical program. Because of the new compact's proximity to Lake Campus, he added Tri Star officials plan to collaborate with Wright State officials.