Wednesday, July 12th, 2017
Celina park plan gets judge's OK
Map of Lake Shore Drive site shows numerous amenities
By William Kincaid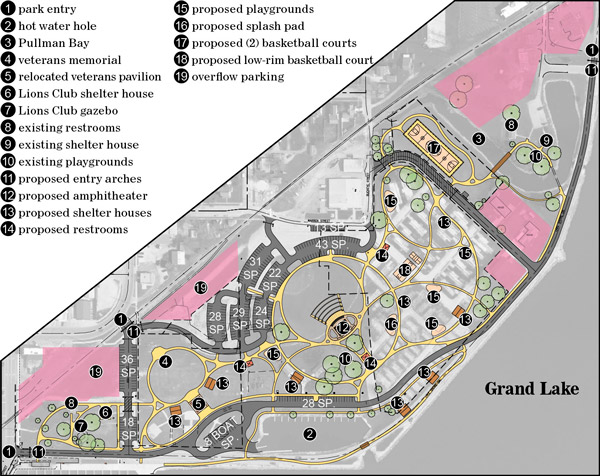 CELINA - Mercer County Probate Court Judge Mary Pat Zitter on Tuesday signed off on the plan to develop Bryson Park District along Lake Shore Drive, mayor Jeff Hazel told the newspaper.
Attorney Molli Schleucher, who works with First Financial Bank officers representing the Bryson Trust, this morning said a court entry is being prepared affirming that the conceptual park map complies with the trust fund's provisions.
A map designed by Bassett Associates of Lima lays out the placement of numerous park amenities, including five playground areas, entry arches, shelter houses, restrooms, a splash pad and low-rim basketball court.
"We're excited to get started," Schleucher said. "We think it's going to be a great asset to the community."
The park's centerpiece will be The Harley Jones Rotary Memorial Amphitheater, which Hazel has said will be built this year on the former Mercelina Park softball field.
Aside from the amphitheater, though, it could take a few years before the park is fully developed, city officials have stressed.
Councilors in April officially established the long-discussed Bryson Park District along Lake Shore Drive to encompass Mercelina, Pullman Bay and Lakeshore parks as well as the former Versa Pak building and Mercelina Mobile Court. The city acquired the last two properties with assistance from the Bryson Trust Fund, which is managed by First Financial Bank officials.
Because Bryson Trust Fund officers have committed to paying 90 percent of the $2.64 million purchase price of the two properties, they have a say in the park's development, Hazel has said.
Zitter in December had approved a petition outlining six restrictions, capping a yearlong negotiation between city and trust fund officials.
The restrictions outline how the park can be developed.
All development of the land purchased with fund money must be pre-approved by trust fund officers and the probate court. Primarily, children's playground areas must be added, and the area must be named the Bryson Park District, Schleucher said.
Bryson was a prominent city attorney. His initial endowment of $232,521, managed by what is now First Financial Bank in Celina, has financed millions of dollars in park projects and grown in excess of $10 million. His will and trust specified that his money go to playgrounds and a swimming pool for the children, Hazel said.
"That was very specific. The court has pointed that out," Hazel told council members on Monday night. "What it means is, here (are) the areas that you have to place playgrounds."
Hazel said benefactors will pay for a splash pad and fitness trail in the new park.
The new amphitheater will face an open grass area capable of holding between 1,500 and 2,000 people, Hazel has said. The grass area will be sloped to allow all spectators, who would face Grand Lake, to see the action on the stage.
Images released by Hazel show the amphitheater encircled by a walking path and containing ramps for people with disabilities. A nearby restroom is also planned, Hazel said.
Some people have asked the reason why the city is spending $1.2 million on a new amphitheater when the community faces more pressing needs, Hazel said.
"This is a state capital line-item grant. This is not our local money," Hazel emphasized. "It was specified for the amphitheater. It can't be used for other things."
City officials also must adhere to park restrictions set by the judge, Hazel said.
"We cannot go outside of that," Hazel said. "And I will again remind council we've had these discussions. If we want to do something different, then we would have to pay the trust back."
Councilman Mike Sovinski voiced frustration that council members were seeing the map for the first time on Monday night, a day before the judge was expected to sign off on it.
"Well, this is a city park," he said. "We're stuck without any input from the public."
Council President Jason King said that statement is not entirely true, pointing to meetings first held in early 2015 to gather input from civic organizations and community members, who were then directed to further gauge the community at large.
The top request was the amphitheater, King said.
Hazel also said that city officials can meet with trust officers and the judge to review plans.
"Mike, I'm with you," King said. "The word 'control' bothers me because this is deeded to the city, and this is the city's property."
King added he understands that trust officers have an interest in the park because they paid for the bulk of the new property purchases.
Sovinski said he wishes the plan had been presented either to council members or a council commitee earlier.
"Just to get the timing of how this plan is presented to the public out there in a, let's say, more acceptable manner," Sovinski said.
The map is a final concept but can be changed, King replied.
"Council, if you have better ideas, community has better ideas, certainly it is something that can be changed," King said, noting the map constitutes a starting point.
Sovinski, however, remained adamant that the plan should have been reviewed through council's parks and recreation committee as a courtesy.
"Because they're the ones that we're asking to take care of this," he said. If he sat on that committee he would feel "out of the loop" about the park design, he added.
Hazel then said that city officials - namely himself and King - were not legally permitted to disclose the plan earlier because they were negotiating with a private bank, the court and attorneys.
"We're only coming tonight - going a day early, if you would - because we know that it's already level, that there's not a negotiating meeting still coming up," Hazel said.
Hazel said it was important to get the plan out to the public because of bad reactions on social media.
Sovinski said he would still like the parks and recreation committee members to discuss the plan in the future.