Thursday, November 2nd, 2017
CIA vets' days hunting treasure featured in show
Pair try to find drug lord's booty
By William Kincaid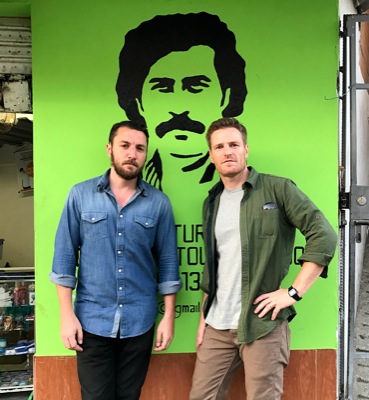 Coldwater native and former Central Intelligence Agency case officer Douglas Laux's latest adventure is the subject of Discovery Channel's new six-episode series entitled "Finding Escobar's Millions."
Debuting at 10 p.m. Friday, the show follows Laux and a fellow former CIA officer using the alias Ben Smith as they attempt to uncover Pablo Escobar's legendary buried fortune.
"If people have Netflix, they might have seen or heard about a show called 'Narcos,' which has to deal with the rise and fall of Pablo Escobar as the world's largest drug dealer in the 1980s," Laux told the newspaper. "Escobar was so rich that he didn't know what to do with all of the cash he was accumulating, so it's rumored that he began to bury a lot of it for safekeeping."
Laux and Smith, according to a Discovery news release, "work with the original DEA agents that handled the case to infiltrate Escobar's inner circle in search of the cash. This elite team uses unprecedented access to technology and numerous inside sources to scour Colombia for the money."
Not wanting to give away any spoilers, Laux refrained from saying what the team did or didn't find in its hot pursuit across the South American country. But Laux teased that the team finds a useful source in one of Escobar's former sicarios or assassins.
Laux had worked as a CIA case officer for 10 years, including two years in Afghanistan, before releasing the New York Times bestseller, "Left of Boom: How a Young CIA Case Officer Penetrated the Taliban and Al-Qaeda."
After the book came out, Laux said he was approached by numerous TV networks considering a project. Discovery presented a proposal he liked.
"It was kind of a mutual collaboration between the two of us," he said.
Laux and Smith were natural fits for the jobs with their backgrounds in intelligence - seeking out sources and networks and adapting to exotic locales, people and cultures.
"We are hunting for something that's hidden ... money in this case," Laux said.
Laux, who was living in New York City at the time, hired a tutor to teach him Colombian Spanish, to learn the local dialects and slang words commonly used in the country.
When he got to Colombia, he took his time getting to know people, Laux said.
"The vast majority of Colombians does not like Pablo Escobar," he said.
Tourists who go to the South American nation focused exclusively on Escobar, who died in 1993, are as annoying to Colombians as foreign tourists with a zealous interest in Al Capone would be to most Americans, Laux said.
The average Colombian is greatly put-off and offended by excessive enthusiasm about the notorious figure, Laux said.
"It's not the first thing you say, it's not the 50th thing you say," Laux said about asking Colombians about Escobar.
Laux admits he encountered a few dicey situations.
"I'm kind of used to it. You look at my background, I'm talking to the Taliban and al-Qaeda," he said. "You basically just put that hat on, put that face on."
But Laux said bad areas exist throughout the world. "I found Colombia very beautiful and not at all dangerous," he said. "In fact, the people were incredible, and I would highly recommend taking a vacation there."
"Look, if you go to the wrong areas of (New York) or Chicago, you could get robbed or worse. So it's like that there too. Stay where you belong and you will be completely fine," he continued, emphasizing the importance of being aware of one's surrounding, a habit that he says kept him alive in the Middle East.
In contrast to his covert work in the Middle East, though, Laux's latest adventure included constant filming by a camera crew.
"That was the weirdest thing I think I've experienced," he said
Laux said it was difficult trying to execute his particular set of skills in the lens of a camera. After all, he was trained never to let anyone see what he's doing or be in a camera's line of sight, he noted.
Laux and Smith visited places where Escobar operated and talked to people who knew and worked with him. Escobar was a torturer, a terrorist, an airplane bomber and an attempted overthrower of this country's government - and if even 10 percent of the stories Laux unearthed are true, Escobar was truly a "sick guy" now residing in the worst realms of hell, he said.
Laux said unlike "Narcos," "Finding Escobar's Millions" "is not about glamorizing Pablo Escobar."
"Personally speaking, I was very skeptical about finding anything ahead of time but still wanted to put the myth of Pablo Escobar to rest because I don't approve how he is glamorized in popular culture today," Laux said. "He was a mass-murdering terrorist and should forever be thought as such."
"Finding Escobar's Millions" will air at 10 p.m. on Friday nights, beginning this Friday.