Friday, December 8th, 2017
Bulldogs win WBL opener with Indians
By Gary R. Rasberry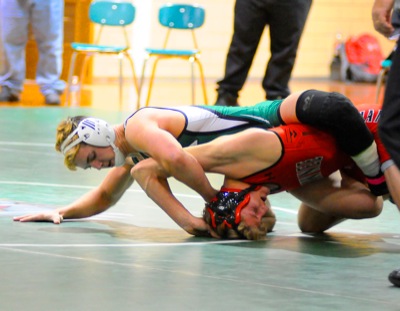 CELINA - Celina wrestling coach James Miracle knew his Bulldogs' opening Western Buckeye League dual match with Shawnee would be a battle.
The Indians gave the Bulldogs a battle, but Celina came away with a 42-34 win that wasn't decided until the final several matches.
"We knew it would be close. We just didn't match up with them," Miracle said.
"It's going to be a grind, but there's going to be a lot of teams being close and fighting for the dual (regular season dual match) title."
The teams traded points as the contest started with the 106-pound weight class. Shawnee's Mason Adlesh scored the quickest pinfall of the night when he needed just 15 seconds to pin Austin Campbell. Nathan Wilson quickly leveled the contest at 6-6 for Celina with a pin of Vincent Buscio. The alternating pinfalls continued as Shawnee's Cory Beach pinned Joe Warner at 120 at 4:57, followed by Celina's Sam Warner pinning in Chris Payson at 126 in 1:37.
The first non-pinfall win came at 132 as Jakob Poor battled Owen Burgess. Poor scored a reversal in the third period to win the bout 6-4 to put Celina in front 18-12. Logan Keiser followed with another three-point decision at 138 with a 9-6 win over Austin Matthews to raise Celina's lead to 18-12.
Shawnee came back with a pin at 145 when Trent Fairbain pinned Aric Gallimore in 50 seconds to tie the match at 18-all. Nick Garwood put the Bulldogs back in front at 152 with a pin over Trevor Miller in 1:49, but Shawnee came back as Cain Bentz, the WBL runner-up at 152 last season, pinned Connor Goings in 1:55 to knot the score at 24-all with five bouts to go.
Shawnee went up 28-24 at 170 when Ethan Derson defeated Logan Muhlenkamp via a 14-6 major decision. The Bulldogs roared back, however, as Luke Muhlenkamp pinned Howie Perkins in 1:06 at 182 points. Then Tim Ferrell pinned Soloman Bryant in 91 seconds to give Celina a 36-28 lead. Because Shawnee was without a 220-pound competitor, Cory Fortkamp void the uncontested void victory and the six points to make the score 42-28 to seal the match. All that remained was the 285-pound bout as defending WBL runner-up Bobby Grotjan pinned Seth Huston in 1:41 to end the evening.
"Seth could end up the league runner-up and Grothjan the champ," Miracle said. "Logan Muhlenkamp going up against (Anderson) ... so we knew two of our usual six-point scorers were in for it. It was going to be up to our lower and middle weights to step up. Some did, some didn't. We came out with a win."
Celina will split its squad on Saturday. The varsity wrestlers travel to the Madison Plains Invitational while the junior varsity heads to Middle Point for the Lincolnview Invitational.