Thursday, December 28th, 2017
Speelman sworn in as new judge
Scheer retiring after more than 30 years
By William Kincaid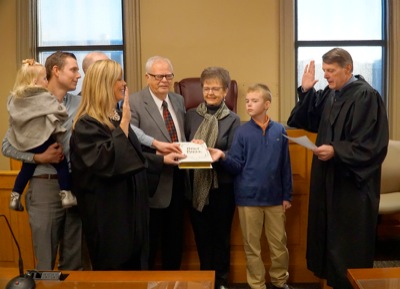 CELINA - Outgoing Celina Municipal Court Judge James Scheer handed over the gavel to local attorney Kathryn Speelman on Wednesday afternoon.
Inside the courtroom on the second floor of city hall, Scheer, using his successor's family Bible, administered the oath of office to Speelman, who defeated rival George Moore in the Republican primary election before running unopposed in November's general election.
The long-entrenched Scheer, a Democrat who decided not to seek another six-year term after having held the judgeship for more than three decades, officiated the ceremony, attended by Speelman's family members. He said the event marked a new day and new direction for the court, which has countywide jurisdiction to adjudicate misdemeanors, hold arraignments on felony charges and hear civil complaints and small claims. Scheer had served since December 1985, according to the court.
"I'm so pleased that you asked me (to officiate the proceedings). You could have asked anybody," Scheer told Speelman, adding he was happy to oversee the transition of power. "I know I leave it in very capable hands so I can leave knowing that it's going to go real well."
He also pointed out that Speelman is "very fortunate to have inherited an excellent staff" with a good background and plenty of experience.
Prior to taking office, Speelman, wearing a judicial robe, told the newspaper she's ready to take over the role, having served as his acting judge for a year-and-a-half.
"I feel well prepared. I went to weeks of judges' training," she said. "I've been filling in here quite a bit for Judge Scheer as he's taken some of his vacation as he heads toward retirement."
She said she'll obviously continue to learn as time goes on and she undergoes additional training in Columbus.
"It's a fantastic bar association around here and everybody is so helpful and so patient," she said.
She described Scheer as a "fantastic person and a fantastic role model" from whom she learned much, most importantly, the importance of listening to people.
"I mean, this might be the worst day of their life coming to court. Nobody wants to come to court," she said.
She said she obviously has a job to do and breaking the law has consequences.
"Yet to realize that we're all just people and we're human and everybody makes mistakes," she said, adding she hopes her rulings can help rehabilitate people so they don't appear before her again or end up in felony court across the street.
Speelman has already arranged to use video arraignments to reduce inmate transportation costs to and from the court and to protect the public, law enforcement personnel and inmates. Using the video technology, Speelman will inform suspects at the jail of the charges, the maximum penalty and their rights before having them enter an initial plea.
Speelman has stressed she will use the technology only for arraignments, not sentencings.
"The video, the camera, everything's ready to go. All the technology's in place, out at the jail and here at the court," she said. "We were able to do it very cost-consciously."
The county jail had already been set up for the video arraignments, she noted.
"I think it's going to work out quite well. We've tested it a couple of times already just in a practice run with the jail, and it's been working fantastic," she said.
Speelman resides with her family in Maria Stein. She received a degree in marketing and financing from The Ohio State University.
She said she worked several years before going back to law school. Working full time during the day while taking night classes, Speelman earned her law degree from the University of Toledo, graduating cum laude, she said.
She's leaving behind a law practice that she's built over two decades to serve Mercer County resdients.
Asked earlier this year about her judicial philosophy and temperament, Speelman had said she holds very traditional, conservative beliefs.
"I feel I'm very calm. I can listen to both sides," she had said. "I'm very respectful to anybody who appears before the court. Regardless of why they're there, they're all entitled to be respected, and I will be impartial."
Speelman believes the role of judge is both to sentence lawbreakers and help steer offenders toward a path of correction. But disposition ultimately depends on the person standing in front of the judge, she had said.
"If it's a first-time offense and it's a minor offense, I'm not against rehabilitation. I don't want to ruin somebody's career over something that might be totally out of character for them," she had said. "Everybody can make a mistake, but if they learn from it - and they're not back before the court - they should have that chance to have their case either diverted or to be rehabilitated."
On the other hand, the consequences for repeat offenders "would certainly be different," she had pointed out.
"If they're regularly before the court, the sentence needs to be harsher each time so that you're sending the message,"she had said.
Sentencing also depends upon the case's circumstances, she had said.
"If they're there for an addiction or a mental-health problem, that would be treated differently than somebody who has a total disregard for the law," Speelman had noted.