Tuesday, January 30th, 2018
CAPT donates $20K to field repairs
By Colin Foster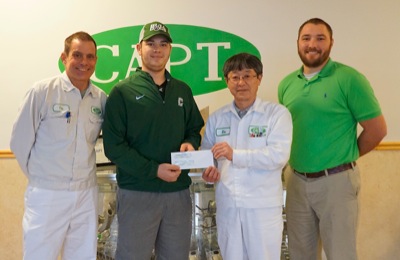 CELINA - Celina Aluminum Precision Technology Inc. President Yutaka Ito shared his memories of playing baseball as he helped another generation of players realize their dreams.
Thanks to the generosity of Ito, vice president Tom Rable and CAPT, high school and collegiate athletes will have improved facilities when they return for this year's season.
CAPT on Monday presented Celina baseball player Ethan Piper and head coach Andy Mikesell with a $20,000 check to help repair and upgrade Montgomery Field after the Nov. 5 tornado left the facility in shambles.
"I was a baseball player," Ito said. "I love the game. When I saw the picture (of the damage), I was disappointed. So we talked about what we could do to help, and then we decided to donate. We are existing in this community, so of course I believe it's one of our duties to support the community."
The CAPT Baseball Complex at Montgomery Field will be the new baseball home for Celina High School, Wright State-Lake Campus and the Grand Lake Mariners.
"We knew we were going to need one more big push to help get it done, and we got that through the generosity of CAPT," Mikesell said. "They have undoubtedly become a major part of our community with everything they have done for Celina kids. It's just awesome. Once you see it, it'll be a lot more realistic. You know it'll have a big impact. It's something that's going to be there hopefully long after me and something the kids will use forever."
Opening Day will go on as planned for the Celina baseball team - thanks to CAPT and the generosity of others in the community. The Bulldogs are scheduled to begin the season on March 24 at home against Ayersville.
"The community has come together and has just been unbelievable to make this happen," Mikesell said. "We've done this for two months. Everybody's helped make this a reality. It's amazing - it really is."
Roughly two months ago, Mikesell contacted Rable about a potential donation. Rable then made a pitch for a donation to the company's board of directors and received approval.
"CAPT is very, very interested in helping the community," Rable said. "We actually had damage from the tornado ourselves because we were without power for several days. When we saw the tornado damage that happened to the baseball field, we really wanted to help the community out with that effort. All of top management was very supportive."
It will, however, take a lot of work over the next two months to get the complex ready.
"They've already started (demolishing) the buildings that are out there, and then we're finishing up the drafting of the architectural plans," Mikesell said. "We'll get those approved by the state. Once they get approved by the state, then we take them to city council for final approval. Then we get going on it. It should get rolling pretty quickly."
"It's a whole change," Mikesell continued. "It's a completely new structure. The dugout will be larger. The press box will be larger. The concession stand will be larger. We're also adding some training space in there, so we'll have two indoor cages and then some storage up top to use whatever we need to use it for. We're hoping to get to the point where we can also redo the third-base dugout. For now, that'll just be a simple dugout, but to do them both is the goal. That, along with Bill Montgomery's donation for the bleachers, we'll have it sparkling."