Friday, February 9th, 2018
St. Marys defeats Celina
By Dave Stilwell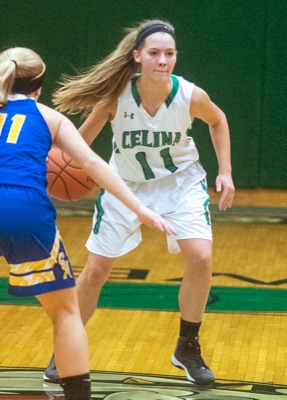 CELINA - Thursday's St. Marys-Celina girls basketball contest had everything you'd expect from a rivalry game: lots of emotion, intensity, and 42 personal fouls.
The Bulldogs rallied from double-digit deficits twice but, in the end, failed to match firepower with the Roughriders in a 73-54 loss at the Fieldhouse.
"We knew it was going to get rough tonight and I was a little concerned because we haven't always done well in physical games," St. Marys coach Jonathan Burke said. "But tonight we preached, 'Stay under control, stay poised, and keep you composure.' And I thought the girls did a great job of that."
The Roughriders had the hot hand early with 3-pointers from Sydney and Lauren Cisco contributing to a 20-12 lead at the end of the first quarter.
Celina was held scoreless for the first four minutes of the second quarter, as St. Marys stretched its lead to 24-12.
But the Bulldogs came roaring back with 17 points in three minutes, including treys from Carley Eichler, Emily Braun and Marcedes Zeisloft.
"Their shooters were getting good shots and hitting them," Burke said. "We didn't close out very well. They were getting good penetration, then kick-outs for good looks."
Zeisloft added a pair of free throws with 1:14 left in the quarter to pull the Bulldogs to within two, 31-29. However, the Roughriders closed out the half with a trey from Lauren Cisco and an inside bucket by Makenna Mele for a 36-29 advantage at the break.
Celina made another run early in the third quarter to once again get to within two points, but the Riders slowly pulled away for a 56-44 lead heading into the final quarter.
Celina varsity assistant coach Kylee Bader made her head coaching debut Thursday night, filling in for head coach Brandon Steinke, who earlier in the day was with his wife welcoming a new child into the world.
"I found out this morning," Bader said. "I really wasn't nervous for me, but I was anxious for the girls. I wanted them to play their best."
Celina starter Lauren Jackson limped to the bench early in the third quarter and did not return. The Riders scored the first eight points of the fourth quarter to go up 67-47, and the Bulldogs never regained the momentum.
"This is one of our higher scoring games and with some players hurt, I was glad to see the other girls step up. It was a good team effort," Bader said. "I was pleased with the way we rallied, but we got very tired at the end. We just didn't have enough legs."
The Bulldogs got 26 points from their bench as 10 different players hit the scoring column. Eichler, a freshman, led the way with 15, followed by Makenna Klingshirn with 10.
Four different Roughrider finished in double figures led by Sydney Cisco with 23. Mele added 16, Haley Felver 11 and Lauren Cisco 10.
St. Marys is now 3-5 in the Western Buckeye League and 9-11 overall.
"Our goal (is) to get some momentum heading into the tournament," Burke said. "We've got two tough match-ups coming up at Minster (Saturday) and with Defiance (Thursday). We'd like to control the things that we can control in those games and hopefully make a run."
Celina, 0-8, 2-18, will finish the regular season on the road Tuesday at Fort Recovery and next Thursday at Van Wert.