Friday, February 16th, 2018
Village worker killed in salt auger accident
Mendon man found in truck
By Ed Gebert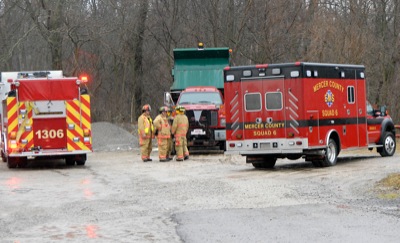 MENDON - A 49-year-old Mendon village employee died Thursday in an industrial accident at the village's water treatment facility.
First responders arrived at the scene shortly after 11:30 a.m. to find village employee Brendan Poling apparently had climbed into the bed of a dump truck carrying salt and somehow slipped into the salt auger. He had been discovered there by another village employee, according to a news release from Mercer County Sheriff Jeff Grey. Poling was pronounced dead at the scene.
"Our thoughts and prayers are with his family, especially for his boys who meant the world to him," Mendon Mayor John Boroff told the newspaper this morning.
The sheriff's office was assisted by both the Mendon Fire Department and Celina EMS.
Inspectors from Ohio Public Employees Retirement System are expected arrive at the plant at 340 E. Market St. today to investigate the incident, Mendon Utility Superintendent Randy Severns said.
Investigators from the Ohio Bureau of Workers' Compensation also are expected in the near future.
Poling was a resident of rural Mendon and had been a village employee for three and a half years, Severns said. Poling had served as a water plant and sewer plant operator.
He leaves a wife and three sons, Severns added.

Correction:
The Ohio Bureau of Workers' Compensation Public Employment Risk Reduction Program will investigate the incident. The error was due to incorrect information provided to the newspaper.