Saturday, February 24th, 2018
Outright champs
Flyers defeat Cavaliers to claim MAC title
By Dave Stilwell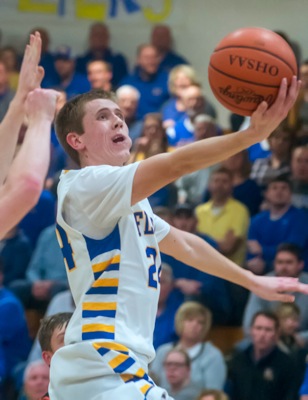 MARIA STEIN - Marion Local rode a 17-3 third quarter to a 57-43 victory over Coldwater and an undisputed Midwest Athletic Conference Championship Friday night at the Hangar.
The Flyers ran the table in the MAC, finishing 9-0, and head into the postseason on a six-game winning streak and an 18-4 overall record.
Marion Local coach Kurt Goettemoeller said he felt a MAC title was a reachable goal when the season began.
"We made the regional finals last year. We had five starters coming back, and we've got a great senior group that loves to play basketball," he said. "All six of those guys are huge to our success, and when you complement them with some of the juniors we have, we knew we could have this kind of success.
"But to go 9-0 in the league, that was really hard," Goettemoeller added. "I thought this was an exceptional year for the MAC in terms of talent. There were a lot of good teams, so for us to be able to run the slate is a credit to the hard work our kids put in."
The Flyers raced out to a 10-1 lead in the first three minutes of the game, but Coldwater absorbed the blow and came storming back.
A steal and a monster dunk by Cole Frilling spearheaded a 13-2 run that put the Cavaliers up 14-12 with 1:37 left in the first quarter.
Marion Local responded with the last four points of the quarter, including a baseline runner by Nathan Bruns for a 16-14 lead at the first break.
Three-pointers by Frilling and Grant Meyer contributed to an eight-point Coldwater run that saw the Cavs go up 22-18 in the second quarter.
But while the Flyers struggled with their outside shooting against Coldwater's zone defense, senior Tyler Mescher picked up the slack inside.
Mescher scored nine points in the second quarter and helped Marion Local rebuild a 28-25 margin at halftime.
Mescher had a double-double in the first half with 13 points and 10 rebounds.
Coldwater didn't help itself at the free throw line, hitting 1-of-6 charity tosses in the third quarter and just four of 12 in the half.
Things slipped away in a hurry for the Cavs to start the second half. Coldwater turned over the ball on its first two possessions, while the Flyers countered with a 3-pointer by Tyler Prenger and a bucket by Justin Albers.
Coldwater coach Nick Fisher called a timeout 65 seconds into the half with his team suddenly trailing by eight. But it didn't help as Marion Local finished the third quarter on a 12-3 run to take a 45-28 lead heading into the fourth quarter.
"Their physicality was the difference," Fisher said. "They stepped it up in the third quarter. I'm not saying we didn't, but we weren't at the same level they were."
"We were doubting ourselves a little bit at halftime," Goettemoeller said. "I said, 'look guys, we haven't played that well and we're still up three.' Now I think them missing a ton of free throws in the first half really aided our cause, but for whatever reason we got a whole different mind set defensively in the third quarter."
The Cavaliers tried to battle back in the fourth quarter, but go no closer that 12.
"I told these guys that I have never questioned their effort in 22 games," Fisher said. "We've give sold effort. Now our execution is something we've been working on. And shooting 33 percent from the free throw line in the first half kind of shocked us. I think if we make most of those free throws, it changes the complexion of the game to start the third quarter."
Mescher finished with 17 points and 12 rebounds to pace the Flyers. Bruns added 16 and Prenger tallied all 11 of his points in the second half.
Frilling had 16 points to pace the Cavs, who finished the regular season at 3-6 in the MAC and 11-11 overall.
Coldwater opens tournament play Wednesday against Delphos Jefferson in the Division III tournament opener at Elida. Having played some quality opponents down the stretch, Fisher feels his team is ready for the second season.
"We're really excited about our draw," he said, "and our last three games - Versailles, Wapak and Marion - how can you get any more tournament tested than that."
The Flyers are top seeded in the Wapakoneta Division IV district and, with a first-round bye, will play the winner of Temple Christian and Ridgemont for a sectional title next Friday at Bath.
"We finally have two days off," Goettemoeller said. "This is the first time we don't have a Saturday game since December. I told the kids we'll talk about tournament on Monday, but you need to enjoy this right now."