Saturday, May 19th, 2018
Hawk, Hemmelgarn take top honors
The Daily Standard's Softball Dream Team
By Colin Foster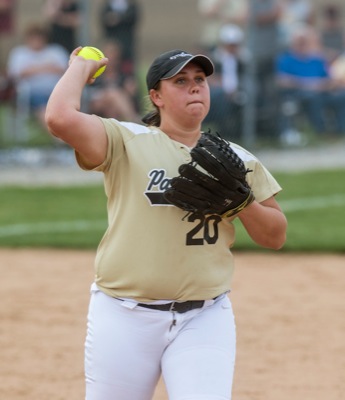 The Daily Standard Softball Dream Team has a familiar name as Player of the Year.
Her name is Haley Hawk.
The Parkway senior recently became a three-time Midwest Athletic Conference Player of the Year and has now been bestowed that same honor for a fourth straight season on the Daily Standard Dream Team.
"I have a really supportive background, my mom, my dad, my family, my friends and my coaches," Hawk said. "I owe a lot to them because they're always willing to work with me and we always try to make each other better."
She made first team All-MAC in each of her four seasons with the Panthers - breaking Parkway records and climbing up the ladder in the Ohio High School Athletic Association record book, as well.
As a junior, Hawk had a batting average of .582 with 11 home runs, 11 doubles and 53 RBIs, while striking out just three times in 79 at-bats. The Muskingum University signee followed that up by hitting .508 with 35 RBIs, 11 doubles and nine home runs during her senior regular season. For her career, Hawk has 39 home runs - a Mercer County record - and 208 RBIs. Hawk has also been the Panthers' primary pitcher over the last two seasons. This year, she has a record of 14-2 with an earned run average of 2.98.
Along with her successes has come team success.
Last season, Parkway went 22-2, 7-0 against MAC competition and fell to eventual state champion Williamsburg in the Division IV regional semifinal. This season, the Panthers were MAC runner-up and ranked third in the state, including a stay in the top spot of the rankings.
Second-year Minster coach Robb Hemmelgarn has been named Dream Team Coach of the Year.
Last year, Hemmelgarn's Wildcats finished 18-11 and were locked in a three-way tie for runner-up in the MAC. This year, Hemmelgarn piloted the Wildcats to a No. 4 ranking in Division IV and their first conference title since 2014.
"Going into the season, we knew what our goals were and we knew what it'd take to accomplish them," Hemmelgarn said. "We knew, just like any sport, each MAC game is going to be a battle every night, and three or four of our MAC games were decided by three runs or less. That's the biggest difference between last season and this season. We're now reacting in a positive way when we play in those tight games rather than being young and inexperienced and hanging our heads. Now we've got that experience and that has helped us in close games this season."
Hemmelgarn, who has coached most of the current roster since grade school, has an overall record of 38-17 in two seasons. This year's run by Minster isn't much of a surprise as the entire lineup returned from a team that had lost to Parkway in the 2017 Division IV district final. The Wildcats did, however, have to clear the Parkway hurdle to win the MAC this year, which they did with a 10-8 victory in early May.
The Wildcats have three Dream Team selections this season in Taylor Homan, Alice Schmiesing and Jenna Poeppelman. Homan and Poeppelman were also first team All-MAC selections, along with Karly Richard and Emma Schmiesing. Alice Schmiesing was awarded second team All-MAC and Danielle Barhorst was honorable mention.
"They've got to go out and play the games," Hemmelgarn said. "They can have Vince Lombardi as a coach, but if they don't respond and do what they know their jobs are, it's not going to happen. We returned all nine of our position players from last year and our DP (designated player). Those girls really responded and have grown with experience."

2018 Daily Standard Dream Team:
First Base
Kara Evers, Marion Local
.319 avg., 2 HR, 12 RBIs

Second Base
Bailey Bates, Parkway
.514 avg., 29 RBIs, 15 2B

Shortstop
Taylor Homan, Minster
.506 avg., 38 runs, 32 RBIs

Third Base
Bailey Strickler, Parkway
.561 avg., 43 runs, 40 RBIs

Catcher
Taylor Turner, Celina
.429 avg., 9 2B, 14 RBIs

Outfield
Hanna Tenkman, New Bremen
.467 avg., 25 RBIs, 10 SB

Brooke Steinbrunner, Celina
.290 avg., 16 runs

Alice Schmiesing, Minster
.367 avg., 19 runs, 19 RBIs

Utility Players
Haley Hawk, Parkway
.493 avg., 9 HR, 38 RBIs
14-2, 2.98 ERA

Maddy Luebke, Celina
.474 avg., 5 HR, 20 runs

Designated Hitter
Maura Hoying, Coldwater
.452 avg., 12 2B, 29 runs

Pitchers
Jenna Poeppelman, Minster
18-6, 2.50 ERA, 128 Ks

Maddie Steinke, Coldwater
11-9, 2.13 ERA, 100 Ks

Honorable Mention
Celina: Emily Keith; Coldwater: Olivia Harlamert, Molly Steinke, Grace Bruns; Fort Recovery: Olivia Homan, Brenna Homan, Hannah Knapke; Marion Local: Amber Schmitz, Lexi Arling; Minster: Danielle Barhorst, Emma Schmiesing, Karly RIchard; New Bremen: Kelly Naylor, Molly Smith; Parkway: Macy Henkle, Alyssa Miller; St. Henry: Alana Kunkler; St. Marys: Lexi Fowler, Rylee Burd.