Wednesday, July 11th, 2018
Crazy for KISS
Local woman's fascination with band began when she was little girl
By William Kincaid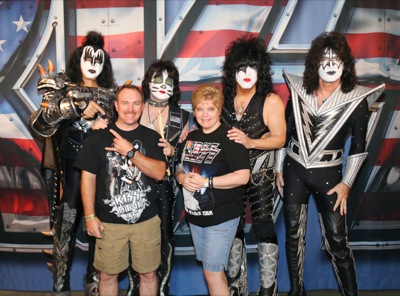 CELINA - Mark and Lisa Burgoon of Celina, like most other couples, shared similar interests and affinities before they were married in April 2001.
For instance, they both had an abiding respect for law enforcement and enjoyed rock 'n' roll.
But Lisa Burgoon was harboring a yearslong secret that once disclosed would forever shake, rattle and roll their lives and the lives of their four children: She was a diehard fanatic of the highly theatrical, makeup-covered rock outfit KISS.
"Mind you, we were married a full year before she said anything about KISS," said Mark Burgoon, a veteran Celina Police patrolman. "It was Journey and Steve Perry, and then all of a sudden she goes, 'Hey, there's a KISS expo in Indy or Dayton or wherever.' "
Mark Burgoon, a 1990 Wapakoneta High School graduate who was more into Motley Crew and Tesla at the time, was taken aback by the prospect of going to an expo where enthusiasts flock to bask in all things KISS, including appearances and performances by band members.
"What the hell is that? People do this?" Mark Burgoon recalled thinking. "I had no idea that people could get that in-depth with KISS. 'This is their original makeup and this is the secondary makeup and this is off this album.' "
Yet he was blown away by what he saw and felt at that first expo, and KISS became an integral part of his family's lives, as they would go on to attend more than 20 conventions, numerous concerts, forge friendships across the globe and meet all core members except Peter Criss and most of the replacements who weaved in and out of the band's lineup. Their basement is a shrine to KISS, with memorabilia and merchandise emblazoned with the white-painted faces of Ace Frehley, Gene Simmons, Paul Stanley and Criss arranged along the walls.
"We've been doing this for 15 years. We went to that (expo), and everything exploded and everything became KISS, and kids were getting into KISS," Mark Burgoon said.
Yet for all of his involvement with the band and its devoted cult-like following dubbed the KISS Army, Mark Burgoon never became a full-fledged convert. He considers himself his wife's enabler who, through unwavering "absorption" of KISS, has grown to greatly admire the "Detroit Rock City" heroes for their incendiary live shows and genuine affection for their fan base.
"You get in the front, and you will never want to be in the back again," Lisa Burgoon said about KISS shows, sparking an animated back and forth with her husband.
"To this day KISS has put on the best show that I've ever seen, and even though you've heard the same songs 20 times (during) the different concerts, it's still a fantastic show and it doesn't matter where you're sitting - although the first 12 rows are pretty cool," her husband added.
"Because once that pyro stuff goes off and you feel that (heat)," she said.
"It's in your face," Mark Burgoon agreed. "You're feeling the heat, and the guy's spitting blood on stage and what they're doing (is on) seven-inch heels, and they're putting guitars between their legs … and then you got Eric Singer back there banging on the drums."
The way Lisa Burgoon tells it, her husband could have either gotten onto the KISS locomotive or stayed in the shadows - nothing would derail her love of the band that traces back to spending time at the home of her "Grandma Jenny."
She recounted with fondness frequent visits as a little girl to the home where Grandma Jenny and Lisa Burgoon's older sister would play KISS 45 rpm records, notably "I Was Made for Loving You."
"She would ask my sister to put it on," Lisa Burgoon said of Grandma Jenny. "She liked (the group) Blondie too."
Asked what facet drew her to KISS, Lisa Burgoon pointed to the band's highly colorful visuals.
"Who wouldn't as a kid seeing them like that because that's when they were still in makeup?" she said.
It wasn't a phase, either. As her life unfolded, her zest for KISS continued unabated through numerous transitions - from vinyl to cassette; through the band's makeup-free era; into her teenage years in junior high and Celina High School, where she graduated in 1989; from her early adult years working with the Ohio State Highway Patrol and becoming a mother; to today, where she runs the KISS Army Ohio Facebook page.
Together, the family members have been taken on an amazing journey attending expos, concerts and even "The Tonight Show Starring Jimmy Fallon" a few years back when KISS performed to a band-picked audience of 75 members - among them actor Nicolas Cage - to celebrate their induction into the Rock and Roll Hall of Fame.
"We have friends who are doctors. We have friends who have nothing, and when you go to a KISS convention, everybody is the same," Mark Burgoon reflected. "It's just KISS and I've never been anywhere like that before, and now we have friends from all over the world - Canada, Japan, Germany, Australia, Spain and Mexico."
The conventions and expos, he's quick to point out, are all family-friendly.
"Every expo that we've ever been to, we've yet to see a fight," he noted. "We've never seen anybody drunk. I've never seen drugs, and we've been doing this for all this length of time."
And the band members, Mark and Lisa said, are unfailingly polite and talkative, with some remembering them by names when they return for KISS events.
"That's just the way they are. You're not just a fan to them," Lisa Burgoon said.
Lisa Burgoon remembered how during a question-and-answer session, her daughter Kayleigh asked Gene "The Demon" Simmons, the band's bassist and vocalist, a seemingly simple yet deeply moving question that caused him to tear up: What was his favorite childhood memory?
"His mom was a holocaust survivor, and he came here with her. She was a single mom. They had nothing," Lisa Burgoon said. "(When she asked the question), he started to cry and said when he first stepped off the boat with his mom. They had nothing."
Through an almost surreal and spiderweb-like connection of people formed over the years, the Burgoons have established relationships with higher-ups in the KISS world, leading to many once-in-a-lifetime opportunities. Mark Burgoon was asked to do security for band members at an expo. The couple were upgraded from nosebleeds to the eighth row at one show and given free tickets and backstage access to a KISS gig last year in Toledo, where they got their photos taken with the members. Lisa Burgoon later received the makeup-smeared towel that Gene Simmons uses to wipe his face while atop a high rafter after "God of Thunder."
They also helped put on a KISS charity event at Cleveland's Hard Rock Cafe and today take care of merchandising for the Indianapolis-based KISS tribute band, KISS Resurrection.