Friday, July 27th, 2018
County lands $255,000 roadwork grant
Fremont Co. in Rockford plans $27M expansion
By William Kincaid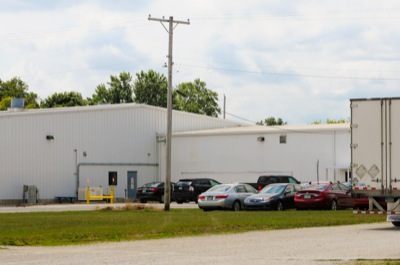 CELINA - Mercer County has landed a quarter of a million dollar state grant to help accommodate a substantial business expansion that officials are calling a major boon for Rockford and the county.
Commissioners Greg Homan, Jerry Laffin and Rick Muhlenkamp on Thursday morning agreed to accept a $255,000 Ohio Development Services Agency 629 Roadwork Grant to help facilitate the Fremont Co.'s proposed $27 million expansion of its Rockford plant at 150 Hickory St.
The company aims to construct a storage warehouse of more than 150,000 square feet, president Chris Smith told the newspaper. As part of the project, a new business access point is planned off U.S. 33, county community development director Jared Ebbing told the newspaper.
"They've got a good thing going up there," Ebbing said, calling Fremont's Rockford plant a great local company and officials believe in the community and its people.
The county's grant will help pay to install new turn lanes on U.S. 33 to ensure safety for any increased truck traffic to the plant, Ebbing said. Under the terms of the agreement, the county is responsible for providing a local match of about $200,000, which Ebbing said will come from a mix of county conveyance fees, Fremont Co. funds and potentially federal highway dollars that Ebbing is pursuing.
Much work and planning, though, are necessary before the county-led roadwork can get underway, likely not until spring or summer 2019, Ebbing said.
Meanwhile, Smith said the company hopes to break ground on the expansion project within the next week or so, with a targeted completion date of January.
The company makes ketchup, barbecue sauce and steak sauce at the Rockford facility and produces mainly sauerkraut at its Fremont location. It is the second-largest maker of private-label ketchup in the U.S.
Smith said the company, which distributes its products nationally as well as exporting to 60 countries, had seen an uptick in overall business even before it planned to expand the Rockford plant.
The company, which employs more than 70 workers, is anticipating adding as many as 70 full-time positions as a result of the expansion, which would generate $2.6 million in new annual payroll on top of the current $2.2 million, Smith added.
Of those 70 projected new jobs, about 34 have already been created and filled over the last few months, Smith said.
"Finding people these days is hard to do," he said, pointing to factors such as the county's lowest unemployment rate in the state.
Though surrounding states are aggressive in courting new business, the company decided to expand its footprint in Rockford due to its long history in Ohio, Smith said. The company, he said, has found great success in hiring people from Ohio, which made its decision easier to make.
Ebbing and Muhlenkamp said that decision to enlarge its presence in Rockford is big news for the village and the county.
"They are growing due to increased demand for their product. They are making a significant investment in the community," Ebbing told the newspaper.
The Fremont Co. was one of two local companies to receive state tax credits for their economic development proposals. Gov. John Kasich recently announced the Ohio Tax Credit Authorities had granted Fremont a 2.48 percent, seven-year credit.
Also, this is the second time Mercer County has been awarded a 629 Roadwork Grant this year. Earlier this year officials announced the county had received a $335,000 grant to make highway improvements in conjunction with Mercer Landmark's proposed $26 million expansion in St. Henry.