Thursday, November 1st, 2018
Doc: Middlemen ratchet up health costs
Rockford physician learns details at recent D.C summit
By Sydney Albert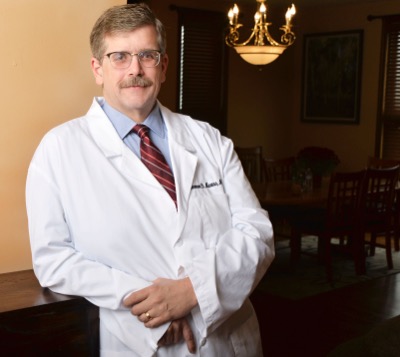 ROCKFORD - When costs for generic drugs rise or shortages arise, many consumers point fingers at medical manufacturing companies, but a local physician says other players in the health-care industry boost the overall cost of health care by $200 billion a year and reduce supply options.
Most medical centers today get their supplies through organizations called group purchasing organizations. GPOs simplify the way hospitals purchase supplies by offering a catalog of products, training and support services, and they can purchase in larger volumes to negotiate for lower prices.
Pharmacy benefit managers, who handle prescription drugs from insurance companies, have a similar set-up, negotiating with drug manufacturers and pharmacies on behalf of insurers.
According to a Journal of the American Medical Association article, "the ability of GPOs to list multiple comparable products can promote competition and reward innovation." However, according to the same article, concerns also have been raised that the current business model featuring GPOs undermines price competition, raises the cost of drugs for consumers and in some ways contributes to medical supply shortages. A separate article published in the Annals of Internal Medicine shared the same concerns with PBMs.
Dr. Norman Means of Rockford recounted an incident from about four or five months ago when a patient couldn't afford insulin.
"Now keep in mind, insulin's a drug that's been around for a long, long time, and while there've been some newer forms of insulin (that have) come out, they're all pretty much still insulin," Means explained.
The patient was paying $700 per month for insulin, which Means found odd. Yet after attending a recent summit in Washington, D.C., he learned why his patient's insulin was so expensive. The cost to manufacture the drug is about $100, but the remaining $600 went to his patient's PBM, Means said.
"By some estimates these middlemen, the GPOs and PBMs, are adding $200 billion to the cost of health care in this country every year and really offering no benefit for that money."
The problem many point to is the "safe harbor" law passed in 1987, which exempted organizations such as GPOs from criminal penalties for taking kickbacks from suppliers. The result is that organizations such as PBMs and GPOs can demand payments from drug companies in return for placing their product in a certain recommendation tier.
If patients ever wondered why the blood-pressure medicine they were on one year suddenly dropped out of favor or became more expensive, Means said it could be that the PBM tried to demand a kickback from the pharmaceutical company.
The issue can go even further when GPOs encourage manufacturers to pay premium fees to become sole suppliers. This sort of "pay-to-play" practice narrows the medical-supply chain as well. A 2012 congressional report from the Committee on Oversight and Government Reform cited GPOs as a contributing factor to medical-supply shortages.
Because of intense manufacturer competition to win GPO contracts, prices are driven down - the intended goal of GPOs, the report reads. As a consequence, however, companies that cannot produce enough of a drug "will stop producing a drug or neglect to enter the market." Largely because of GPO contracting, individual generic injectable drugs were being produced by at most three companies, according to the report.
"In such a tight oligopoly, the temporary closure of a significant number of the production lines in one or two manufacturers' facilities makes shortages much more likely," the report reads.
This was illustrated last year when hurricanes Harvey and Maria struck Houston and Puerto Rico. The disruption of a few medical manufacturers based in those areas led to nationwide product shortages. Problems obtaining products that were already on the Food and Drug Administration's shortage list, such as saline bags, were exacerbated.
"The problem with GPOs is you have centralized control. There've been congressional reports that have pointed out that the reason we have this problem is due to essentially centralized control, not in the hands of government but in the hands of a few organizations," Means said.
Means also said trusts are starting to form within the industry. He pointed to CVS Pharmacy's recent acquisition of Aetna, an insurance company. Upon completion of the merger, CVS will own pharmacies, its own PBM known as Caremark and the insurance company.
At the summit in Washington, Means was joined by representatives of organizations such as Physicians Against Drug Shortages, the Association of American Physicians and Surgeons, Practicing Physicians of America and a coalition of black pastors, who said the black community had been disproportionally affected by these issues.
Means said the solution is simple: Congress should eliminate the federal safe harbor law. Some bills have already been introduced, but they've gotten no activity or gone to a committee vote. Means said it's time for voters to start questioning their representatives about the reason why such measures have stalled. Both parties have had a chance to fix the issue, but so far, neither one has.
He compared the current business practice of GPOs and PBMs to the payola scandal that erupted in the music industry in the 1950s, after which it became illegal for record companies to pay for their songs to be played over the radio.
That was music, he said. No one dies if they don't hear their favorite rock 'n' roll song. So why in the world of health care, where the stakes are much higher, is a similar "pay-to-play" scheme still tolerated, he wondered aloud.