Thursday, February 14th, 2019
Cassella woman answers calling to launch ministry by opening Do Good Restaurant
By William Kincaid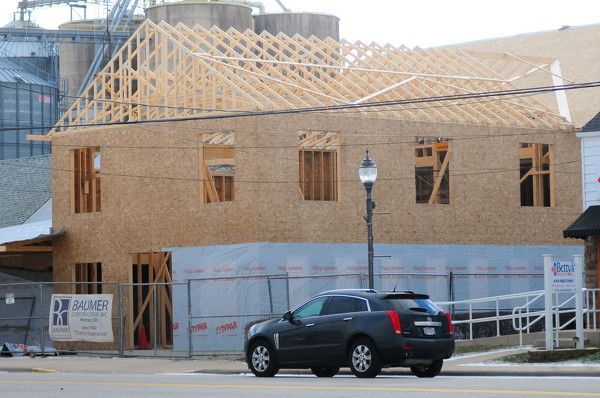 CELINA - Retired Celina dentist Richard Ramsey last week introduced Karen Homan of Cassella to Grand Lake Rotarians by recalling the biblical story of Noah.
"What did Noah do? He obeyed God's call, and he built the ark specifically to all his instructions - and it worked," Ramsey said.
When God's voice rang out, Homan, like Noah, listened to and obeyed his command, Ramsey noted, characterizing Homan as a humble servant, wife of a farmer, mother of four children and grandmother of 11, with two on the way.
Ramsey is one of the many believers who have thrown their support behind Homan and the vision imparted on her to open the Do Good Restaurant and Ministry at 25 W. Main St. in Osgood. All proceeds from the restaurant side will finance numerous ministries, which will be free to all.
Offering her remarkable story to Rotarians, Homan said she's just an average person, a Catholic who has always loved God but had never before heard the Holy Spirit.
That all changed about two years ago when she said she heard a loud voice telling her to build a restaurant.
"He said 'there are many good people but they're not coming to my churches … but they'll go out to eat as lives are so busy,' " Homan recounted.
Homan said at first she tried to drown out the voice by keeping herself busy. Yet the Holy Spirit persisted and Homan eventually yielded to it.
She was directed to the Silver Spur in Osgood, telling the owners she was supposed to buy the business. Turned out, they were interested in selling.
The ministry, she was told, would flourish as long as it is done for his glory.
Homan had wondered why she was supposed to build the ministry in little hamlet of Osgood, as opposed to along the heavily traveled U.S. 127.
The Osgood site was ideal as it sat on the corner of four counties - Mercer, Darke, Shelby and Auglaize - and would attract a good cross-section of people from throughout the area.
The area is blessed with a multitude of abundances: family, faith and materials, she said. But God wants people of all denominations to recognize and return to him, Homan said, pointing to the gifts given to us all that are often overlooked.
"He said that's what offends him - we no longer give him any credit. We don't acknowledge. We just think that we're doing it all by ourselves, and we're not. Everything you have is his gift," she said.
Homan proceeded to follow the call to wherever or whomever it led her. Signs appeared and questions were answered, sometimes at the very last minute, with bills looming.
"Like all those people I told you: Some will work for you. Some will have a talent. Some will give you money," she recounted. "He said it will belong to everybody. It will be communal."
The Silver Spur was purchased and later demolished to make way for the Do Good Ministry and Restaurant. Garmann/Miller Architects-Engineers and Baumer Construction came on board to design and construct the roughly 10,000-square-foot building.
Ground was broken in the fall, and the Do Good Restaurant and Ministry is scheduled to open sometime this summer, she said.
The basement will be dedicated to ministry and the ground floor as a 150-person capacity restaurant. The top floor will evoke the Last Supper, she said.
Homan said she was able to secure a talented chef and plans to offer American cuisine. She intends to have several paid full-time positions to ensure good service but will need hosts of volunteers to do many things - teachers, tutors, seamstresses, etc.
It will have a safe atmosphere where people can feel the presence of God, she said.
She aims to provide at least five ministries when the doors open this summer and add offerings as time goes on. They will include exercise classes, among them one to introduce mothers and young children to Christian music; a sewing ministry to provide blankets, bonnets and hats, each featuring a cross and scripture verses; senior classes; honor meals free to volunteers of all stripes; Bible study with a focus on scripture; Christian book club; grieving ministry; pillowcase dresses for third-world countries; tech classes; and many others.
Those interested in volunteering or learning more about Do Good Restaurant and Ministry can call 567-644-5255 or visit its page on Facebook.