Friday, March 22nd, 2019
Human trafficking often under the radar
By Tom Stankard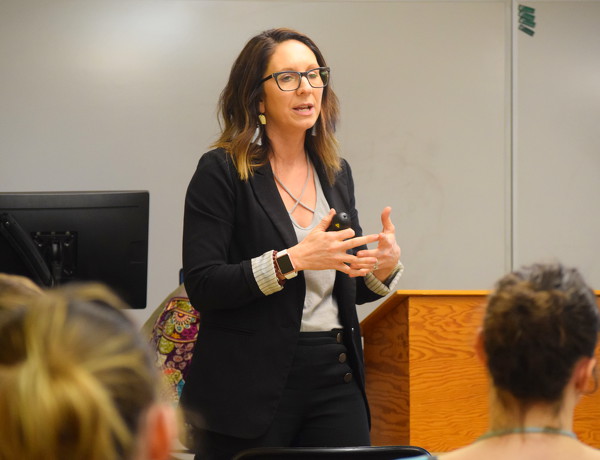 CELINA - Human trafficking happens all around us and many people aren't even aware, warned Jamie Evans, Young Women's Christian Association victims service director.
The ever-growing criminal industry of sex and labor trafficking is hard to find because it doesn't look like a white van driving down the street luring in victims, she told a group of people at Wright State University-Lake Campus on Thursday afternoon.
She said human trafficking often flies under the radar at farms, restaurants, salons and massage parlors.
Those most at risk of becoming victims are child runaways, she added.
"They're vulnerable, she said. "Traffickers see them as potential victims because they don't have money, a job or a loving family and traffickers can offer those things to them."
Evans said traffickers tempt potential victims to work for them by offering false promises.
"Farmers offer $20 per hour, a nice home to live in and an opportunity to live in America. But they come and don't find anything that's promised. They get no pay, live with other workers promised the same thing."
When victims agree to work for the trafficker, Hanes said the trafficker usually confiscates the victims' government documents.
"The victims then can't do anything in the world. They're basically dead, and the trafficker owns them," she said.
Victims often are groomed by the trafficker for several months to get victims to love and depend on the trafficker.
"Traffickers want to isolate you from everyone you've ever known so you will depend on the them," she said. "The process can last a long time. It can go one or two years before you do something that's considered human trafficking."
Traffickers coerce the victims to do what they want, she said. Sometimes they threaten to show naked pictures of the victims to family or friends or will physically harm them if they don't do as they're told.
Hanes stressed the victim usually doesn't realize anything is wrong with this behavior.
"It's the life they think everyone lives and they believe this happens to everyone," she said.
A trafficker can look like anyone, Hanes cautioned. He or she will not wear a flashy suit or drive a fancy car like they do in the movies. Oftentimes, the trafficker will remain behind the scenes and have victims recruit people and do other dirty work, she noted.
When they're in public, the trafficker will not let the victim out of sight, Hanes said. If engaged in conversation, the trafficker often claims to be the victim's family member or boyfriend/girlfriend and will speak for the victim to control the conversation.
Several red flags can indicate trafficking, she said. Victims often wear clothing that's out of season, don't know where they are, avoid eye contact and lie about their address and age.
Hanes gave several tips for parents to protect their children. She advised parents to do random bedroom checks at night to ensure the child is there and to check their child's phone periodically as traffickers often communicate with victims over social media. A sudden personality change in the child also could be a sign.
Around the world, 40.33 million people fall victim to human trafficking, she said. Of those, 81 percent are in forced labor, 75 percent are woman and girls and 25 percent are children.