Wednesday, May 15th, 2019
Bob Ross fans draw pleasure from popular local painting class
By Leslie Gartrell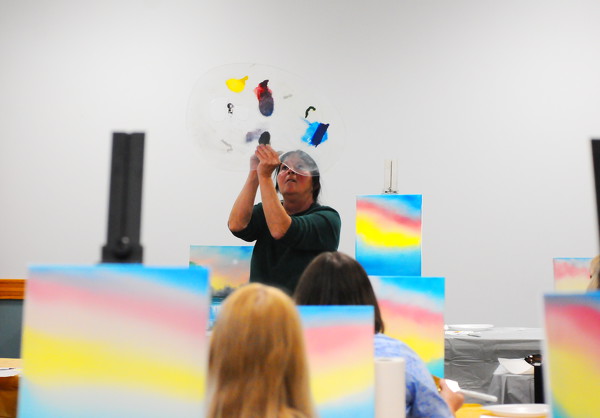 CELINA - Bob Ross fans had the opportunity to paint their own happy, little trees and have their own happy accidents on Tuesday at the Mercer County District Library as they were guided by a certified Bob Ross instructor.
The library last week hosted its first Bob Ross painting class, which adult services coordinator Connie Gray said had filled within the first day of being announced. The class cost $10, which Gray said was thanks in part to the Friends of the Library, who helped cover half the cost. The Bob Ross style of painting has been around for decades, and Gray said she believes people enjoy his approach.
"People like to get out and try something new," she added.
Certified instructor Laura Sibold showed Tuesday's participants how to paint a waterfall landscape. Sibold received her certification in the late 1970s and has been instructing ever since.
Sibold, from Spencerville, said she had traveled all over the U.S. to complete her certification, including trips to Virginia, Florida and Oregon. A rural mail carrier by day, Sibold said she's always been artistic and took the leap to become a certified instructor after her first husband had passed away.
"It's fun to teach this style because people can pick it up so easily," she said. "It's simple, it's totally fun."
Sibold used the wet-on-wet technique used by Ross and demonstrated techniques on how to keep paintbrushes clean, how to pick up just the right amount of paint and how to blend the paints. The artists even used Bob Ross paint to create their masterpieces.
Amanda Zibrida, 35, and daughter Kiara Jeffries, 17, came with a group to spend the evening painting together. Zibrida said it's a fun activity to do together, and Jeffries noted that oil paints can be expensive, and this was an affordable way to paint.
Sibold agreed that Ross' easygoing style and nurturing disposition in his show "The Joy of Painting" made art accessible and approachable to those interested. She added that she enjoys Ross' style of painting because of its simplicity.
"The best part (of teaching) is seeing people's faces when they see what they've created," she said.
Sibold said she will likely return to the library in the fall to teach another class.