Tuesday, May 21st, 2019
Stepping up to bat
Van Wert, St. Henry show support for Niekamp
By Colin Foster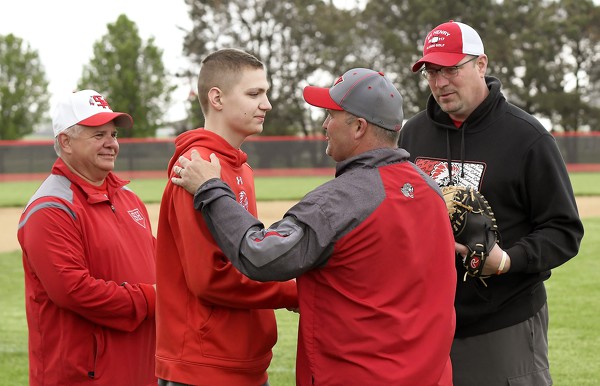 ST. HENRY - Nate Niekamp stepped up to deliver a pitch Monday night at the Wally Post Athletic Complex.
The right-handed sophomore from St. Henry had already received heavy run support.
On Monday, St. Henry hosted Van Wert in "DomiNATE" night - a game played in support of Niekamp, a St. Henry student who has been in an ongoing battle with a rare type of cancer known as sarcoma since March 2018.
Though the Cougar players didn't know Niekamp ahead of the game, they stepped up to bat for him and raised more than $600 by collecting donations from fellow students one day in the Van Wert High School parking lot.
Van Wert and St. Henry gave a combined donation of more than $1,000 to the Niekamp family.
"It's just nice to kind of be an example of giving back," Van Wert coach Charlie Witten said. "We talk about that as far as a team, that you're the best you can be when people are sacrificing for each other. Even though we didn't know Nate, it's something we can sacrifice a little bit for Nate. It took us 45 minutes of time out there standing in the parking lot collecting change. That's nothing. I'm glad my kids wanted to do it. They had fun out there, too. They were joking around with people, harassing them to give them money."
Prior to the season opener, St. Henry coach John Dorner contacted Witten about holding DomiNATE night when the teams played. Having had a battle with cancer himself 14 years ago, Witten understood a little about what the family is going through and wanted to help out any way possible.
"I had colon cancer 14 years ago," Witten said. "So I'm obviously pretty sensitive to a story like that. I know a little bit of what they're going through. I don't know what kind of cancer Nate has, but it's certainly a struggle and every little bit helps."
Niekamp, the son of Terry and Cheryl Niekamp, threw out the ceremonial first pitch to his dad. The Niekamps, Dorner and Witten then posed for a photo. The Redskins also wore specialized uniforms with DomiNATE on the backs, and both teams gathered around Niekamp at home plate for a photo at the conclusion.
Dorner was disappointed with an 8-5 loss, but the St. Henry coach couldn't have been more happy with the support shown by Van Wert.
"I can't say enough about Van Wert," Dorner said. "They don't even know the kid, and they're out there collecting a couple weeks ago with batting helmets, talking to people along the road and doing everything they can. Charlie's just a class act. He's just as good of a coach as there is and good hearted. We sure appreciate it. The Niekamp family appreciates it. That kind of stuff needs to be rewarded. I hope they go a long way in tournament."