Friday, August 23rd, 2019
My Foundation - My Story
Centenarian embodies love, generosity, compassion, wisdom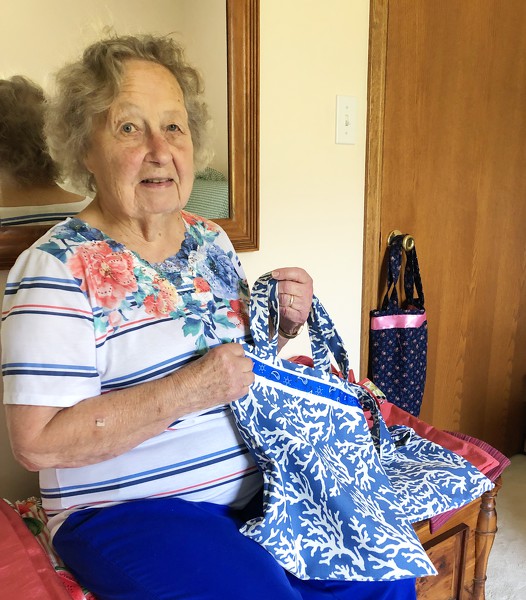 By Carol Hone
Mercer County Civic Foundation
Executive Director

Last week, I met Esther Jetter, a remarkable woman with the most generous heart, kind eyes, hard-working hands, charitable spirit and wisdom far beyond her years. And that says a lot, because Esther is 100 years old.
Esther and her late husband, George, are fund-holders with our Civic Foundation. For nearly three hours during our get-together, she shared stories of their life together, their philanthropy, their incredible willingness to give to others. What started them on this life path? "The Lord and George," Esther replied without hesitation.
The couple met in 1939 while George studied engineering at the University of Cincinnati and Esther majored in English at Olivet University. He proposed to her on their third date, having first fallen in love with her photo.
"I wasn't even thinking of marriage," she said, "and I knew my mother wouldn't approve. I left him dangling for a few years, and we eventually married when I was 22 years old. George was a good man," she tells me wistfully. He passed away just 10 years ago.
They made their way from Cincinnati to Fort Recovery in 1945 as George had purchased the Fort Recovery Stirrup Co., which later became Fort Recovery Industries. Soon they were producing saddle trees, which required an aluminum horn for securing the rope when wrangling cattle. The business grew and reached broader markets. Today, a major employer in this area, Fort Recovery Industries has evolved into a leading global manufacturer of structural, functional and decorative aluminum and zinc die castings.
Esther, who recently moved to Greenville to be near family, spoke positively of their Mercer County years.
While raising their seven children and assisting with other relatives and ailing parents, the Jetters found it in their hearts to travel with the Church of the Nazarene missionaries. They made several trips to Haiti and went on other missions to Honduras, the Dominican Republic, Cuba, Kenya, Ecuador, South Africa, Romania and beyond.
Even at age 100, Esther continues to shower blessings on others as she humbly shared the stack of hand-sewn tote bags she'll soon send to women in Cuba.
"I'm always begging for good, sturdy material," she told me.
At one point, the Jetter's son, Dean, and grandson, Nathan, traveled to Kenya to check on and celebrate the water well the Jetters had financed and developed for African Nazarene University. It was here they witnessed the local women's appreciation of protective hot pads. That's how making hot pads became another of Esther's missions. She was so glad to hear that some of her hot pads had gone to a refugee camp in Kenya to assist women with cooking. And the wells provided by the Jetters saved the university thousands of dollars as they no longer had to have their water tanked in. Once again, the Jetters provided a better life for those in need.
The Jetters have always embraced the spirit of giving. Years ago, while many of their own children (now ages 60-76) were still living at home, they welcomed Eunice, a young Haitian woman, to live with them and work at Fort Recovery Industries. Eunice was one of a number of young people who lived with them and worked while earning money to go to college.
To this day, they've all remained close. Eunice and her husband, Dr. Joel Laborde, now an American citizen and practicing physician in Tampa, Florida, joined family and friends this past spring in Florida to celebrate Esther's 100th birthday. Esther admires and celebrates the success of Eunice and Joel and so many of the young immigrants they embraced.
The couple found ways to support initiatives throughout their lives, supplying Third World countries with aid for their schools and churches or funding for much-needed water wells, to name a few. They were also major donors of the Fort Recovery Public Library. At Mount Vernon Nazarene University, they donated funds for the business building and, in memory of Esther's parents, the Clarence and Jennie Moore Building for Family & Consumer Science.
As we sat down to lunch, Esther's first words to me were, "Aren't we blessed to have this good clean water? So many people in our world struggle every single day just for water."
Esther has a way of encouraging others to support worthy causes; her spirit draws you into her quiet ministry and her passion to help anyone less fortunate. A certain peacefulness surrounded this kind woman who was so appreciative of her vibrant mind and healthy body. During our hours together, she spoke intelligently of world issues, current and past, clear evidence of a wise and sharp mind.
Esther Jetter could teach all of us so much about what's truly important in life.
"Meeting people of various cultures in our travels, we learned to appreciate all people from all over the world. There are so many good souls willing to do good things," she said.
We ended our visit that day discussing other initiatives Esther might wish to support with her funds via the Civic Foundation. Helping others is her greatest desire.
"My mother always said, 'Cast your bread upon the water and it will return to you after many days.' And I believe that," Esther said. "People often ask if the struggling cultures will ever be relieved of their troubles. Our friend, Joel, whom I spoke of earlier, says they can only do better when they have a decent government. And I believe he's right, also. These people are not lazy; they just have no other means. That's where we come in."
Esther believes real help comes from good people doing good things, and that's exactly how her mission-driven heart pumps most impressively. Mine grew 10 sizes during this interview.
What idea might help your heart and the hearts of others grow through your generosity? How would you like to be remembered? We could all learn so much from people like Esther and George Jetter.
Give us a call at the Mercer County Civic Foundation today (419-586-9950) and we'll assist you with your philanthropy.